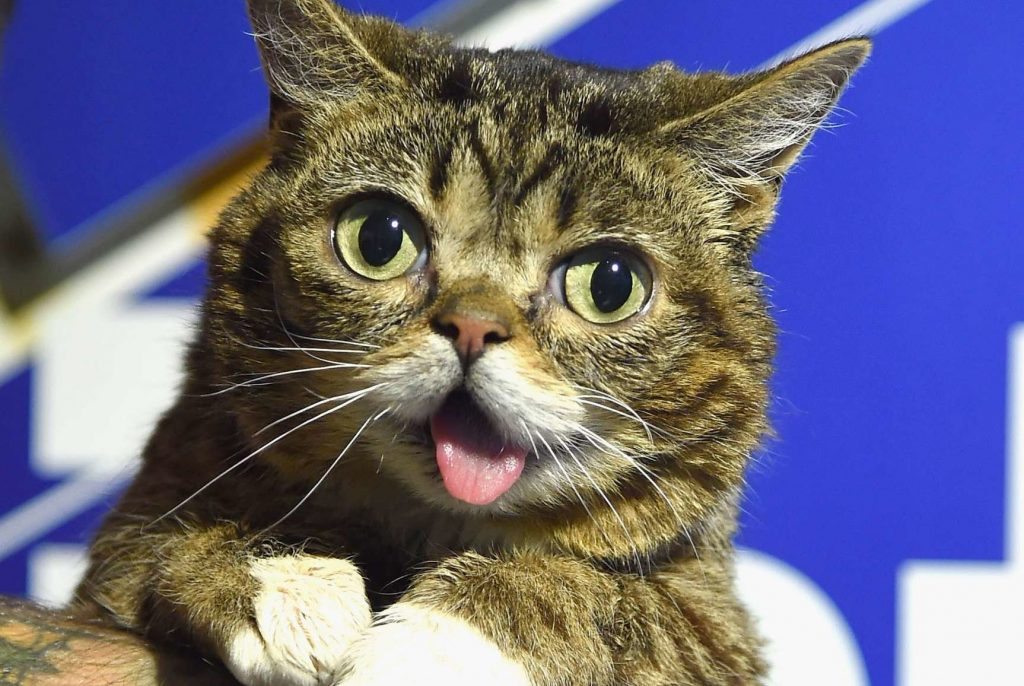 Sir Timothy Berners-Lee, the computer scientist credited with inventing the World Wide Web, was recently asked what aspect of internet usage surprised him the most.

His one-word answer? "Kittens."

Cats have gradually taken over our homes and our hearts. Within the past decade they have soared past dogs as America's most common house pet, now taking lengthy naps in at least 100 million family rooms.

They have also becomes rulers of the digital universe. British internet users upload 3.8 million cat pictures per day. Several hundred thousand of Berners-Lee's fellow Brits also maintain social media accounts for their favorite felines.

Several cats have become celebrity superstars. One of the most famous is Lil Bub, pictured above.

She was found by music producer Mike Bridavsky in a tool shed in rural Indiana in June 2011. The runt of a litter of feral cars, Lil Bub suffered from a form of dwarfism. She had no teeth, which accounted for her signature protruding tongue. When Bridavsky first held her, she weighed no more than a hacky sack. Even though he was facing mounting debts and already owned four cats, "It wasn't really an option not to take her home."

After gently nursing her to her ultimate weight of four pounds, he posted an online photo. The internet promptly exploded.

Lil Bub became a rock star. Her pink tongue appeared on countless tote bags and coffee cups. She made Today show cameos. Her licensing agent secured deals with publishers and Animal Planet. Her Facebook page boasted 2 million likes. Through Bridavsky's guiding hand she even became a philanthropist. Before expiring in 2016, she raised more than $300,000 to help save the world's tigers.

Lil Bub was the guest of honor at sold-out cat conferences. Many of those who came into her presence burst into tears.

What in the world was going on here?

There's something about animals – especially cute animals – that strikes a chord deep within human hearts. The seemingly inexplicable popularity of digital cats is a global phenomenon, unhindered by linguistics, politics, or ethnicity.

This raises an intriguing theological question: will animals be present in the next world?

As a pastor, I can't tell you how often I've heard someone ask, "Will Smokey and Muffin, our beloved kitties, be waiting for us in heaven? I'm just asking for the children, you know."

Canine lovers are quick to point out that Hollywood has produced a movie called All Dogs Go to Heaven, but so far maintained an enduring silence on the eternal destiny of cats.

While the Bible makes no definitive statements about the future life of animals, we do find a number of tantalizing hints. It's worth noting that humanity has never lived apart from other creatures. "It's not good for people to be alone," says God in the second chapter of Genesis – the first thing that is declared to be "not good" in all of God's creation. According to the Genesis account, Adam enters into both companionship and stewardship with a vast array of creatures before he meets Eve.

Nor are animals absent from the Bible's occasional snapshots of the next world.

According to Isaiah 11:6-9, God's new creation will be a place where the lion, the lamb, the wolf, the leopard, and the goat will lie down together – and a little child will lead them. Bill Murray's famous warning of the Apocalypse in Ghostbusters – "dogs and cats living together!" – may actually turn out to be a description of heaven.

Nor should we overlook the remarkable role that animals play in human wellness, as demonstrated by dozens of studies.

Pet owners experience less stress. People who lavish love on creatures live longer. Hospitals, workplaces, and retirement homes welcome therapeutic animals for the simple reason that they provide healing for hurting human souls.

A key biblical text is Romans 8:18-22, which affirms that the whole cosmos – everything that currently exists – will one day be redeemed. It's hard to imagine the new heavens and new earth without some of the myriad creatures that have represented the divine Artist's extravagant love for beauty, diversity, and even comedy.

Here's what we know for sure: heaven will not be disappointing.

Does that mean Lil Bub will be part of the welcoming committee?

We can only say that it would be just like God to give one of his humblest creatures a starring role.