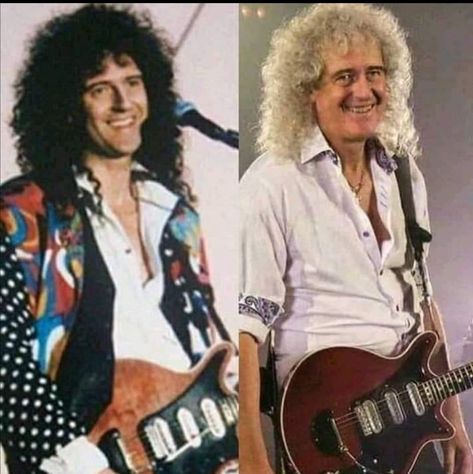 It's easy to write people off without knowing what makes them tick.

Take Brian May, for instance.

On the one hand, he's regarded as one of the greatest guitarists of all time. Rolling Stone ranked him #26, while a readers poll in Guitar World honored him as the second best instrumentalist of the rock era.

As a founding member of the British band Queen, May experienced the group's meteoric rise to global fame in the 1970s and 80s, propelled by hits such as Bohemian Rhapsody, I Want to Break Free, Crazy Little Thing Called Love, and Another One Bites the Dust. Queen's works have spent a cumulative 26 years on the UK album charts – more than any other musical ensemble, including the Beatles.

One of the things that makes May special, however, is that he is the only astrophysicist ever inducted into the Rock and Roll Hall of Fame.

May's Ph.D. thesis, entitled A Survey of Radical Velocities in the Zodiacal Dust Cloud, isn't exactly light reading for your next trip to the beach. It examines the role of fine particles in our solar system. Dr. May has authored a book on the history of the universe and served as chancellor of John Moore's University in Liverpool. He served as a science team collaborator with NASA's New Horizons mission to Pluto a few years ago, and co-founded, with the late Stephen Hawking, Asteroid Day – an annual opportunity to remind humanity of the ongoing danger of asteroid strikes on our planet.

Oh, and he's still touring with Queen doing live stage shows. At age 73 his hair is the same length. Just a different color.

All of which begs the question: Does astrophysics really have anything to do with rock music?

According to cultural historian Rick Beyer, physics came to the rescue when May was creating the "stomp, stomp, clap" section of We Will Rock You. "In an age before digital [technology], he was able to make the calculations necessary to create the sound of thousands of people stomping and clapping with no echo whatsoever."

It's easy to dismiss rock stars as one-dimensional human beings. Every day we're faced with the temptation of minimizing those around us, as if one glance is all we need to assess someone else's value.

But our perceptions fail us.

Do we really have eyes to see the quiet woman who cleans the workplace corridors; the bored teenager permanently glued to the flat screen of his video game; the Zoom meeting participant whose face we see but whose voice we rarely hear; and countless others who will cross our paths during the next 24 hours, virtually unnoticed?

So, stop today.

Ask God to open your eyes. Listen carefully. Be amazed.

Everyone you meet, no matter what disguise they happen to be wearing, is in fact a masterwork made in the image of God.

We never really know whom we might encounter.

Maybe even a rock star who seriously knows his stars.