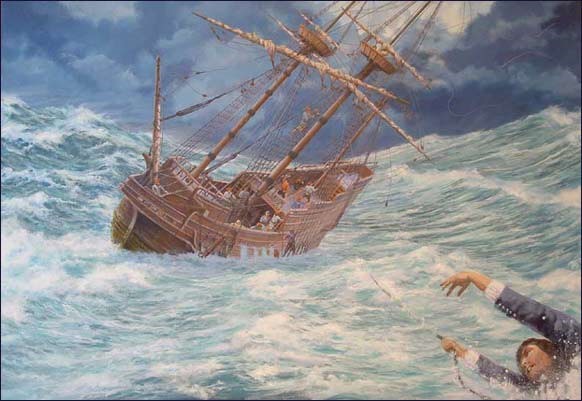 This year marks the 400th anniversary of one of America's most famous founding stories.

Between September 16 and November 9, 1620, the Mayflower completed a perilous 66-day voyage from Plymouth, England to the shores of Cape Cod. Along the way the small vessel and its 102 crew members and passengers battled violent North Atlantic storms.

On one occasion a 29-year-old Pilgrim named John Howland, who happened to be standing on the deck, was blasted by a towering cold wave. He vanished over the side.

Realistically, there was no hope for the young man. But Howland's hand somehow found a rope that was trailing behind the ship.

No one could have known it at the time, but Presidents Day was riding on John Howland's ability to hold on to that rope. So was the future of American literature, a major religious movement, several dozen Hollywood actors, Saturday Night Live, and one of the world's most popular Christmas carols.

Sailors, working frantically against wind and waves, hauled Howland within a few yards of the Mayflower, where they snagged him with a boat hook and pulled him aboard.

A passenger later reported, with an archaic turn of phrase: "Though he was something ill with it, he lived many years after."

That he did. Elizabeth Tilley, a 12-year-old girl standing on the deck when Howland was rescued, ultimately became his wife. They had ten children and 82 grandchildren. After that, their family tree grew some very interesting branches.

Among the descendants of Jack and Elizabeth Howland are three U.S. Presidents – Franklin Delano Roosevelt, George H.W. Bush, and George W. Bush; two first ladies – Edith Roosevelt (Teddy's wife) and Barbara Bush; and a Vice-Presidential candidate – Sarah Palin.

The Howland Tree also includes the two most important early figures of the Church of Jesus Christ of Latter Day Saints (Mormons): founder Joseph Smith and his successor Brigham Young.

Ralph Waldo Emerson, Henry Wadsworth Longfellow, and Orson Scott Card (author of the Enders Game series) would never have arrived on the American literary scene if John Howland had not been rescued.

Nor would the world have ever sung O Little Town of Bethlehem, penned by Episcopal Bishop and Howland descendant Philips Brooks.

Dr. Benjamin Spock would not have arrived to provide his "commonsense baby care" to the parents of millions of Baby Boomers.

For that matter, Humphrey Bogart, Alec Baldwin (who plays Donald Trump on SNL), Jordana Brewster (The Fast and the Furious), Anthony Perkins (the psycho in Psycho), Christopher Lloyd (Doc Brown from the Back to the Future trilogy), Ted Danson (Cheers) and Chevy Chase would never have appeared on stage and screen.

A few years ago I had the privilege of officiating at the wedding of my niece Libby, who married Dr. David Pike, one of John Howland's descendants. They now have three children of their own.

A lot was riding on John Howland's ability to hold on to that rope.

This has been just the kind of year in which it may feel as if you're barely keeping your head above water, clinging to any lifeline in sight.

Don't quit now. "I press on toward the goal for the prize of the upward call of God in Christ Jesus." (Philippians 3:14)

God's future is populated by more people than we can dare to imagine who are counting on us to hang on.