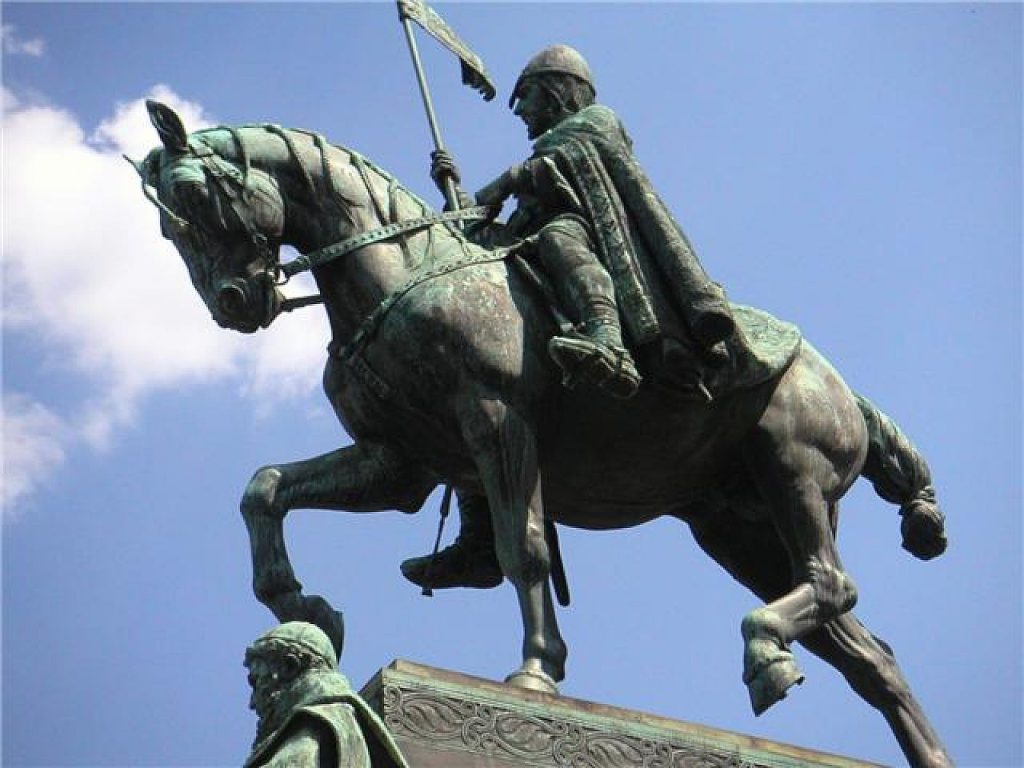 There's only one widely-sung Christmas carol whose verses tell a story.

It's also the only carol that spotlights a real-life character not found on the pages of scripture.

We're talking about Good King Wenceslas, the recitation of a medieval tale now more than 1,000 years old.

The lyrics we sing were composed by the English hymnwriter John Mason Neal in 1853, who was hoping to re-introduce Catholic traditions (especially stories that delighted children) into Anglican worship.

Wenceslas I, the Duke of Bohemia, was born in 907 near Prague. He experienced his family as a mixed bag of heroes and villains (no doubt as many of us do). His grandmother Ludmilla was his beloved spiritual mentor. His mother Drahomira was a scheming manipulator. His father Ratislav was his solid model of leadership. His brother Boleslav (known as Boleslav the Cruel) was his murderous rival.

This crowd would no doubt have rocked the Jerry Springer Show.

When he was 13, Wenceslas lost his father. His mother seized control and began to persecute local Christian leaders. Five years later he managed to push her aside. During his ten years of leadership, he established a sterling reputation as a friend of the poor and downtrodden. But Boleslav, supported by a cadre of grouchy nobles, plotted his downfall. In 935 he invited his brother to a religious festival, where the Duke was assassinated on his way to celebrate mass.

Almost immediately, Wenceslas was declared to be a martyr and a saint. A cult that honored his righteous life sprang up in Bohemia and England.

The Holy Roman Emperor decided that "duke" hadn't been a sufficient earthly title. He posthumously declared Wenceslas to be a king – hence the title of the future carol.

The legends that sprang up around Wenceslas throughout the Middle Ages concerned his care for the poor. One of his biographers wrote, "No one doubts that rising every night from a noble bed, with bare feet and only one Chamberlain [servant], he went around God's churches and gave alms generously to widows, orphans, those in prison and afflicted by every difficulty."

The carol we have come to sing celebrates one such compassionate evening. It happens on December 26, also known as the Feast of Stephen. Here's the first verse:

Good King Wenceslas looked out on the Feast of Stephen.
All the snow lay round about, deep and crisp and even.
Brightly shone the moon that night though the frost was cruel
When a poor man came in sight gathering winter fuel.

Wenceslas is determined to bring food, drink, and firewood to the poor man, and enlists the help of his page or servant.

But the winter weather is fierce, with wind chills that New Englanders might describe as "wicked bad." The page sorrowfully tells his master that he is too cold, and the snow is too deep, for him to continue. Wenceslas, however, instructs him to follow in his footsteps. Every place where the master places his feet is miraculously warmed. The fifth verse wraps up the story:

In his master's steps he trod, where the snow lay dinted;
Heat was in the very sod which the saint had printed.
Therefore, Christian men, be sure, wealth or rank possessing,
Ye who now will bless the poor, shall yourselves find blessing.

Here's the whole tale as sung by the Irish Rovers, whose lively version hints at the centuries-long popularity of Wenceslas in the U.K.

In the midst of dire circumstances, the master gives his servant just one instruction: Follow me. Watch my steps. Place your feet where I am placing mine. I'll prepare the way.

In the Bible's four biographies of Jesus (Matthew, Mark, Luke, and John), Jesus says "follow me" on 87 occasions.

He never says, "Recite a creed about me." Nor does he say, "Build a building that will honor me." Jesus never tells his disciples, "Use my name as a rallying cry during election cycles." But he continually says, "Follow me" – which is why those who seek to imitate him are called followers.

What does it mean to follow Jesus?

We begin each day imagining the conversations, meetings, times of work, times of play, and quiet moments that lie before us over the next 24 hours. If Jesus had all of these obligations and opportunities on his calendar, how would he approach them? What would he say or do? What would he not say or do?

We cannot answer such questions unless we've studied his actual life. Following Jesus is not sheer guesswork. His four biographies (called the Gospels) provide an astonishing portrait of his thoughts, motives, and actions. That's where we begin.

Studying leads to knowing, and knowing opens the door to humble, hopeful following.

Wenceslas is honored today as the patron saint of Bohemia. A statue of him (shown above) stands in Wenceslas Square in Prague.

Legend has it that if Bohemia (today's Czech Republic) is ever threatened, the statue will come to life. Wenceslas will ride forth to set things right.

Here's a better idea:

Will you yourself come to life this Christmas and help make things right in this hurting world, beginning with the poor?