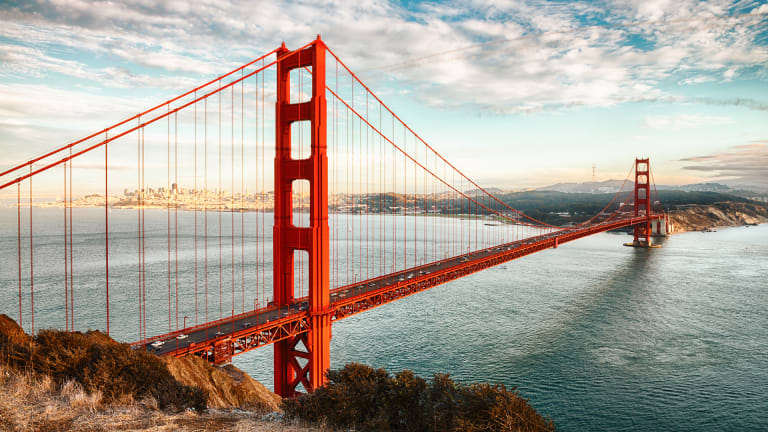 One of the charms of the Golden Gate Bridge is that it almost appears to be fragile.

That's astonishing – especially since it sits alongside the San Andreas Fault, one of the most active geological features in North America.

But engineers are convinced that the bridge is probably the safest place to be the next time San Francisco is rocked by a major earthquake. That's because its two gigantic support towers, or piers, plunge deep into the underlying bedrock of the Golden Gate.

Every aspect of the bridge – its span, its cables, every nut, and every bolt – is ultimately preoccupied with the underlying bedrock. Everything else in the area will be subject to jarring horizontal earth movement. But not the bridge.

On this morning in which it feels as if the ground beneath us has been badly shaken, God has not moved. Trusting him, we have a place to stand.

Here are the words that inspired Martin Luther to write "A Mighty Fortress is Our God:"

God is our refuge and strength, a very present help in trouble.
Therefore we will not fear, though the earth should change,
Though the mountains shake in the heart of the sea;
Though its waters roar and foam, though the mountains tremble with its tumult.

There is a river whose streams make glad the city of God, the holy habitation of the Most High.
God is in the midst of the city; it shall not be moved; God will help it when the morning dawns.
The nations are in an uproar, the kingdoms totter; God utters his voice, the earth melts.
The Lord of hosts is with us; the God of Jacob is our refuge.

Come, behold the works of the Lord; see what desolations God has brought on all the earth.
God makes wars cease to the end of the earth; he breaks the bow, and shatters the spear; he burns the shields with fire.
'Be still, and know that I am God! I am exalted among the nations, I am exalted in the earth.'
The Lord of hosts is with us; the God of Jacob is our refuge.

Psalm 46

May the Lord bless you this day and in the days ahead with grace, confidence, and hope. All other ground is shifting sand.