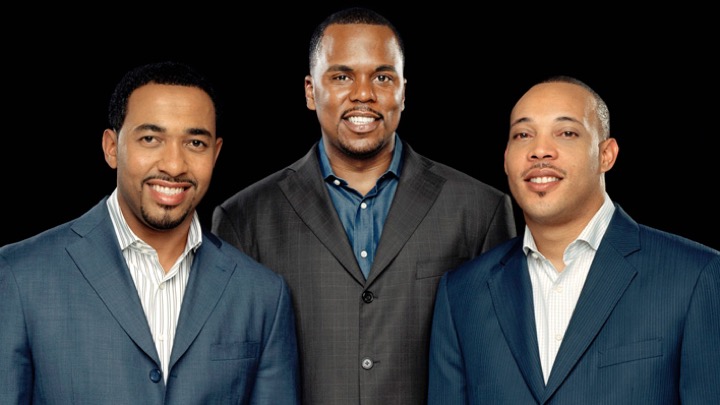 "We are not ourselves by ourselves." (Eugene Peterson)

Most of us, at one time or another, cherish a dream of making a difference – of helping to transform this broken world.

All too often such dreams die. We may run out of resources or resolve or sufficient discipline to stay on the path. But if we are blessed with the gift of God-provided friends of the heart, amazing things can happen.

Thirty years ago, three young men from the streets of Newark, New Jersey, became living embodiments of that reality.

Sampson Davis, Rameck Hunt, and George Jenkins (left to right above) had a lot in common. They grew up in impoverished, fatherless homes. Their neighborhoods were plagued by gangs, drug dealers, and almost perpetual violence. Newark's streets routinely crushed the dreams of its children.

Having become friends as teenagers, George, Remeck, and Sam made a pact.

Looking back, they don't remember it as a particularly big deal. One day in high school they simply made a resolution to each other that they wouldn't succumb to their soul-numbing environment. They would finish high school, go to college, and then – the most outrageous dream of all – they would all become doctors.

And how would they pull this off? They would be there for each other. No matter what.

It's difficult to overstate the odds against them. There were no expectations for their success. Family members, instead of encouraging them, often subverted their ambitions to escape the neighborhood.

At various times it seemed certain that the pact would fail. In high school they made their share of bad decisions. Two of them ended up in jail. Racial bias sometimes closed doors. At one point they almost quit school in order to become rap artists.

But their loyalty to each other – their willingness to push each other back onto the path – proved resilient.

All three entered Seton Hall University through an innovative program designed to help minorities and kids from the street break through the glass ceilings of formal education in America. Given the chance to compete, they succeeded brilliantly.

Even though they attended different med schools, the trio graduated on the same day in May 1999.

Today, as reported on their website – the Three Doctors Foundation – Dr. Rameck Hunt is a Board Certified Internist at University Medical Center at Princeton, and an Assistant Professor of Medicine at Robert Wood Johnson Medical School. Dr. George Jenkins serves as Assistant Professor of Clinical Dentistry at Columbia University. And Dr. Sampson Davis is a Board Certified Emergency Medical Physician at several emergency departments in New Jersey.

The Three Doctors Foundation is a not-for-profit which seeks to nurture the dreams of children and youth in the New York and New Jersey area. They've told their story in a trio of powerful books – The Pact, We Beat the Street, and The Bond – and were featured in an award-winning documentary in 2006.

Sam, George, and Rameck still find it hard to grasp the enormity of their achievements. "We feel great pride and awe – awe in the power of friendship," says George. "We needed each other to achieve our dreams."

That's the power of Proverbs 27:17: "As iron sharpens iron, so one man sharpens another." Men and women alike can lift each other up, offering strength and courage no matter what the odds.

Are you being called to a special task or a special place?

Ask God to provide the gift of someone else to go with you.