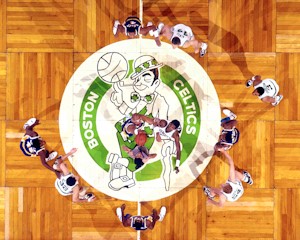 The Boston Celtics, proud winners of 16 National Basketball Association championships, are currently staggering toward the finish line of a disappointing season.

Ravaged by injuries – including All-Star guard Jaylen Brown, who discovered earlier this week that he's done for the year – the team isn't likely to make much of a splash in the playoffs.

But nothing will change the fact that the Celtics have long had the coolest home court of any team in the league.

In 1946 Anthony DiNatale was assigned the task of constructing the hardwood floor in the arena that would become known as the Boston Garden. World War II had just ended, however, and quality lumber was scarce and expensive. How could DiNatale manage to stay within budget?

He was able to find a number of hardwood scraps – leftovers from the construction of army barracks. All the pieces were considered too short for future projects of any significance.

That's when DiNatale remembered an innovation in furniture design from the Palace of Versailles, just outside Paris, dating to the late 1600s. It was called parquet, from the French word for "park." Small pieces of wood were joined together to form small, independent "parks" that could then be glued together, mosaic-like, to form a comprehensive design.

Workers at DiNatale Flooring in Boston turned a heap of scraps into 264 separate panels, each five feet square. The panels were then joined together by 988 bolts.

The result is arguably the most famous floor in the world.

DiNatale charged the Celtics $11,000 for his parquet masterpiece. When a new floor was built in 1999, some of the original planks were retained. Other pieces from 1946 (autographed by Celtic greats) were auctioned off for as much as $300,000 each.

Not bad for a pile of throwaway scraps.

There's another famous "building project" that turned rejected material into a masterpiece.

Psalm 118:22 reports: "The stone the builders rejected has become the cornerstone."

Centuries later, the first generation of Jesus' followers announced what they thought that verse was all about: "Jesus is the Stone treated with contempt by you the builders, but he has now been made the cornerstone." (Acts 4:11)

What we might not give a second glance, God can use to change the world. God can turn a trash heap into a sanctuary, leftovers into a banquet, and discouraged people into a victorious team.

Look again at your deepest disappointments: your relationships, your vocational resume, the hopes you once had that you have a gift worth sharing.

Is God capable of transforming those limitations into something remarkable?

Let's just say that's a slam dunk.