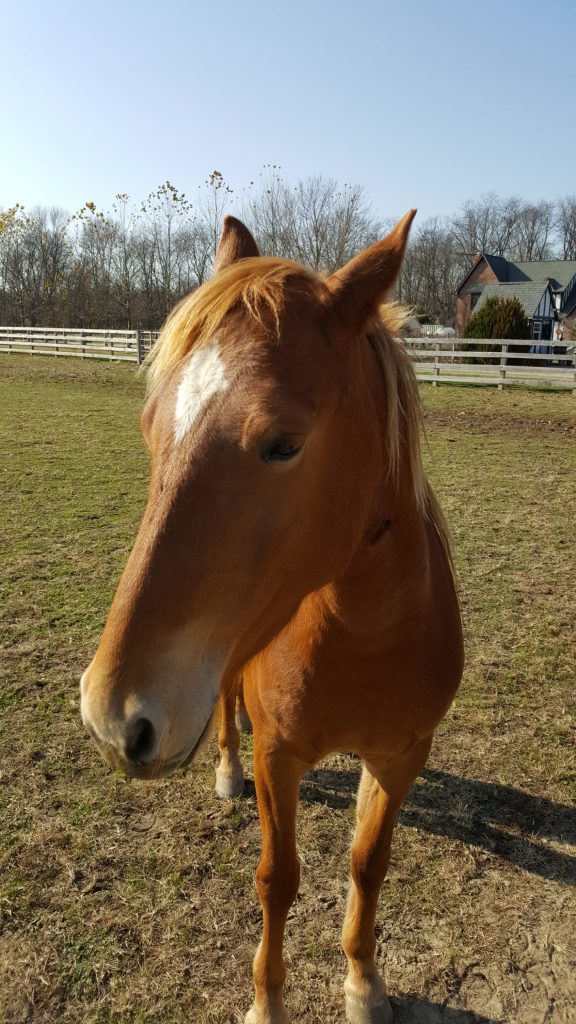 When I was growing up, some of the older boys in my school used to taunt me:

"Old MacDonald had a farm, ee-i-ee-i-o!"

It appears they were right, because it's all come horribly true. I'm old. My name is McDonald. And I do indeed live on a farm – a small horse farm about a half-hour's drive from downtown Indianapolis.

Mary Sue and I currently have the privilege of caring for two rescue horses. Breezy is a retired thoroughbred race horse – a very, very retired race horse, I should say, since her days of competitive running are clearly far behind her.

Our other horse is a mustang. Mustangs are wild, free range horses from the American West. Three winters ago our daughter Katy, who is a credentialed horse trainer, checked out the website of the Bureau of Land Management. From time to time the government rounds up a number of mustangs and puts them up for auction. This is for their protection, since the number of wild horses regularly exceeds the availability of land for grazing.

The BLM apparently didn't know it, but one of the mares they corralled in Wyoming was pregnant. She gave birth to another mare. That turned out to be the little foal that Katy won in an online auction.

In February 2019 the BLM trucked the auctioned horses to the Midwest. We picked up our new foal and brought her here to the farm. Katy named her Fiona. That's her in the picture above.

When she arrived, Fiona had essentially never been touched by human hands. We had no idea what we might be getting into. What kind of personality would she have? Was she placid or skittish? Had we just signed up for a Doberman or a golden retriever?

Two months went by before we tentatively extended our hands, hoping she might welcome our touch. The big question with this little horse was always going to be whether she would trust us. Would she be willing to believe that we were for her and not against her?

First, there was one gentle touch. Then another. Fiona loved it. Today she approaches us when we approach her. There are still hurdles ahead, but Katy continues to train her. One day she will welcome riders.

It's worth noting that Fiona was just a little thing when she came to live with us. Since then she's gained at least 300 pounds. So if you're looking to put on some weight this summer, our barn is apparently a great place to make it happen.

Trust is the non-negotiable reality at the heart of healthy relationships.

That's true for people with their animal companions. For people with other people. And questionably for people with their Creator.

The most crucial spiritual question is self-evident: Is God for us or against us?

Gallup surveys over the past 50 years have consistently shown that while a majority of Americans believe in God, a majority of that majority sees God as either disengaged or generally threatening. God is either uninterested in the petty dramas of our lives, or he has actively assumed the role of a cop – an enforcer of divine legislation, a cosmic killjoy who wants to make sure that a good time is not had by all.

A great many people assume that God's temperament is grounded in something that resembles smoldering resentment. When he ponders our existence he thinks, "Why is your life such a freaking mess? When are you ever going to get your act together?" People live in fear that they haven't prayed enough prayers, or avoided enough temptations, or accomplished enough good in the world.

These assumptions are so deeply rooted in human hearts that the apostle Paul goes to great lengths in his New Testament letters to communicate the reality of grace.

His most soaring rhetoric comes in the book of Romans:

"What, then, shall we say in response to these things? If God is for us, who can be against us? He who did not spare his own Son, but gave him up for us all – how will he not also, along with him, graciously give us all things?… No, in all these things we are more than conquerors through him who loved us. For I am convinced that neither death nor life, neither angels nor demons, neither the present nor the future, nor any powers, neither height nor depth, nor anything else in all creation, will be able to separate us form the love of God that is in Christ Jesus our Lord." (Romans 8:31-32, 37-39)

Yes, Jesus asks for everything. But he also gives us everything.

That's because God is for us. He is not against us.

When we learn from experience that God can be trusted – and is in fact the one person in the universe we can truly count on – wild horses won't be able to pull us away.