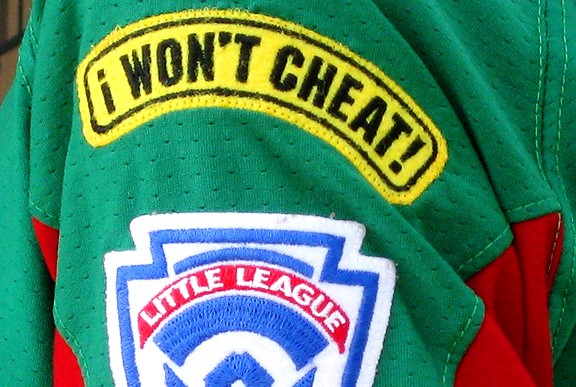 It was a sign of the times.

Almost 20 years ago, former Major League Baseball star Dale Murphy – one of the "high integrity" players of the 1980s – urged the creation of a patch that could be worn by participants in the annual Little League World Series. Every August, 16 teams of 10-12-year-old boys from around the United States and the world gather for 10 days in Williamsport, Pennsylvania.

I Won't Cheat would make a statement.

Murphy hoped these young stars would choose to turn away from the lying, deception, and performance-enhancing drugs that had afflicted scores of MLB players in the 1990s.

The patch was worn every year from 2004 through 2013, after which it was retired.

Perhaps it's just a coincidence, but 2014 proved to be one of the most controversial and dispiriting Little League World Series ever. The highest achieving American team was Jackie Robinson West, a squad from Chicago. Opposing coaches accused JRW of breaking strict residency rules in order to create a stacked team. The Chicagoans vehemently denied any wrongdoing. But earlier this year, after seven years of stonewalling, the coaches and players finally admitted they had cheated.

Cynics will argue that wearing a patch is powerless to prevent a talented 12-year-old from succumbing to the pressure to cut corners.

But a growing body of research says otherwise. It matters what we promise, and to whom we make such promises.

Daniel Pink, a student of corporate motivation, writes in his book Drive:

"In the spring of 2009, as the world economy was reeling from a once-a-generation crisis and the financial shenanigans that stoked it, a few Harvard Business School students glanced in the mirror and wondered if they were the problem. The people they'd aspired to be – financiers and corporate dealmakers – weren't, it turned out, heroes in an epic tale, but villains in a darker story. Many of these high-profile businesspeople were the ones who pushed the financial system to the brink. Meanwhile, these young men and women looked among their classmates and saw the seeds of similar behavior."

Specifically what they saw was a chronic disregard for the law. In a recent survey of MBA students, 56% admitted to cheating. Not just once. Regularly.

Just this week, evidence emerged that Duke professor Dan Ariely's bestselling book – The (Honest) Truth About Dishonesty, a landmark study on honesty and cheating – was based in part on faked data.

The Harvard students made a plan. Together they fashioned what they called "The MBA Oath"– a Hippocratic Oath for business grads in which they pledge to support causes beyond their own self-interest. As Pink points out, "It's not a legal document. It's a code of conduct."

Here are the Oath's opening words:

"As a business leader, I recognize my role in society. My purpose is to lead people and manage resources to create value that no single individual can create alone… I will manage my enterprise with loyalty and care, and will not advance my personal interests at the expense of my enterprise or society."

Max Anderson, one of the student founders, said, "My hope is that at our 25th reunion our class will not be known for how much money we made or how much money we gave back to the school, but for how the world was a better place as a result of our leadership."

Nearly 300 institutions have adopted the MBA Oath. As of this morning, 12,537 current MBA students have signed on.

Daniel Pink sums things up simply: "Words matter."

As the apostle Paul puts it in Ephesians 4:25: "What this adds up to, then, is this: no more lies, no more pretense. Tell your neighbor the truth. In Christ's body we're all connected to each other, after all. When you lie to others, you end up lying to yourself" (The Message).

A patch on a sports jersey doesn't have the power to change a human heart.

But God's Spirit does.

And every time we intentionally place ourselves back in the Spirit's flow – even in the midst of failure – we're affirming again that we believe that truth matters to the One who said he is the Way, the Truth, and the Life.