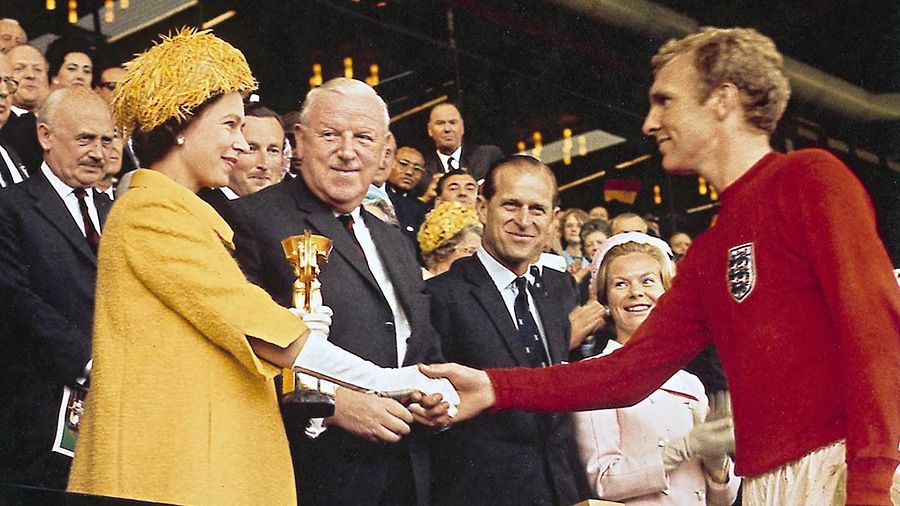 Throughout this season of Advent our focus is "The Story of Christmas in 20 Words." On each of the 20 weekday mornings ending on Christmas Eve, we'll spotlight a single word from the Gospel accounts that helps us ponder more deeply the birth of Jesus.

11. Pitched-Tent

Robert Frederick Chelsea "Bobby" Moore wasn't just a famous English footballer (or what Americans would call a soccer player).

He was captain of the team that won the 1966 World Cup, the only time England has broken through to win that global honor.

The Brazilian superstar Pele described him as the greatest defender he ever played against. It's hard to overstate his celebrity in football-crazed England. At the turn of this century, Moore was actually named one of the 100 Greatest Britons of All Time.

An interviewer once asked him what it was like on that one-of-a-kind day when he ascended the balcony in historic Wembley Stadium to personally receive the Jules Rimet Trophy from Her Majesty Queen Elizabeth II. "It must have been a wonderful experience to do that before a home crowd," the interviewer gushed.

"Actually," said Moore, "it was terrifying."

He continued, "As I was going up the steps, I noticed that the queen was wearing some beautiful white gloves. I looked at my hands and realized that they were covered with Wembley mud. I thought, 'How can I shake hands with her like this? I'll make her gloves dirty.'"

When you watch the historic footage of the ceremony, you can see Bobby Moore desperately wiping his hands on his shorts. As he gets closer to the queen, he even wipes his hands on a nearby velvet tablecloth. For English football fans, it is one of the endearing images of that memorable day.

For centuries, theologians have pondered a crucial question: How can people with dirty hands – we who have soiled ourselves through our actions, words, and motivations – ever come into the presence of a holy God? How can we approach a deity whose essential nature is infinitely purer and whiter than any queen's gloves?

The answer emerges in the opening words of the Gospel of John: "In the beginning was the Word, and the Word was with God, and the Word was God" (John 1:1).

"In the beginning" mimics Genesis 1:1, the very first line of the Bible. This is John's way of saying that Jesus has always existed. Jesus isn't part of creation. He himself is the co-creator of everything that exists.

What is John implying by associating Jesus with the Greek word Logos ("the Word")? It means he is the sum total of everything God wants to say. He is the ultimate "logic" of the cosmos – the complete Word, or communication, from our Father in heaven.

And what does he mean by saying, "and the Word was God"? The astonishing truth is that God, by nature, is plural.

This is often misunderstood. Bertrand Russell, the celebrated British atheist, once said, "I cannot believe in a religion whose first premise is an outright contradiction – that one is three and three are one." But Russell overlooked something obvious – that God is one in the category of being (that is, there is only one God), but three in a very different category, that of personhood. God is Father, Son and Holy Spirit. We can truly say that God is a society.

Since God is so utterly different from us, how can God ever get "the Word" to us in a form we can possibly understand?

Throughout the Old Testament, God sends messages to earth. Through the prophets, God sends words to help us understand who he is. Then, at Bethlehem, God does something fundamentally different. God sends The Word.

That's the meaning behind John 1:14: "The Word became flesh and made his dwelling among us."

The words "made his dwelling" translate a single Greek word: eskenosen. It literally means "pitched-tent." Imagine the people of Israel journeying on the Exodus from Egypt to the Promised Land. Every night they pitch their tents in a great encampment. And God pitches his tent right in their midst. In contemporary language, we might say that God buys a house in our subdivision. Or he moves into the apartment just down the hall.

God revealed himself by becoming one of us– and then by choosing to live with us.

J. Robert Oppenheimer, director of the Manhattan Project, suggested, "The best way to present an idea is to wrap it up in a person."

Or as a little girl once said in Sunday School, "People couldn't hear God's whisper, so he said it out loud through Jesus."

The Queen of England would never have condescended into the mud of Wembley Stadium to meet Bobby Moore. That's just not what royalty does. But the True King did not wait for us to clean ourselves up so we could approach the purity of his cosmic throne.

He came down to us. He got his hands dirty and pitched-tent in our neighborhood.

And that's exactly where you will find him this week – in the midst of whatever muck and mire you happen to be facing.