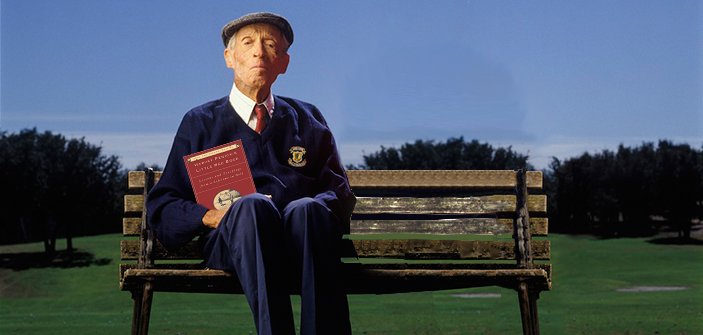 Harvey Penick literally wrote the book on golf.

Throughout his life, he never aspired to be an author. He simply loved everything that goes with hitting the little white ball.

Born in Texas in 1902, Penick began to caddie at the Austin Country Club at the age of eight. By the time he turned 13 he had been elevated to assistant pro. He became head pro in 1923 – a position he retained until 1971. Along the way he coached the University of Texas golf team to 21 conference championships, and mentored (among many others) Tom Kite, Kathy Whitworth, Ben Crenshaw, and Betsy Rawls, each of whom would ultimately be elected to the World Golf Hall of Fame.

He also happened to be a world-class golfer in his own right, competing in the 1920s against greats like Ben Hogan and Walter Hagen.

Year in and year out, Harvey took notes.

He wrote private observations about golf in a red notebook. He loved the game's simplicity and beauty. He excelled at what golfers call "the mental game" – the ability to bring maximum focus to the singular goal of addressing one's ball before each swing.

Kevin Robbins, one of Penick's biographers, is among myriad golfers who became impressed not just with his observations but his character: "He was an uncomplicated, unfettered soul who brought clear thinking, plain solutions, and remarkable sense of clarity to golf." And he insisted that those who play the game comport themselves with "integrity and grace, win or lose."

When Penick was 88 years old, his son happened to pick up his well-worn red notebook. Apparently, no one else but Harvey even knew that it existed.

"Dad, this is amazing. Do you mind if I see if someone wants to publish it?" Penick gave his consent. His son soon returned with exciting news. "Simon & Schuster is willing to publish your notes, and they're offering an advance of $100,000. What do you think about that?"

Penick was pensive. "Well, I don't know. My finances are tight. I'm not sure I could come up with that kind of money."

"No, Dad," said his son, "Simon & Schuster wants to give you $100,000 for the privilege of publishing your book!"

Well, when you put it that way…

In 1992, Harvey Penick's Little Red Book: Lessons and Teachings from a Lifetime in Golf (co-authored with Bud Shrake) hit the market, and quickly became the highest selling volume on golf in publishing history.

What is grace? It's the mind-numbing discovery that God is willing to give to us for free what we could never purchase for ourselves.

We may have come to the conclusion that we'll never be good enough, pure enough, smart enough, courageous enough, or prayerful enough to deserve a joyful, heartfelt relationship with God. And that's all true. We can never be enough of anything to put God in our debt.

But what we cannot accomplish on our own, God is willing to lavish as a gracious gift. The apostle Paul writes concerning Jesus:

"He didn't, and doesn't, wait for us to get ready. He presented himself for [his] sacrificial death when we were far too weak and rebellious to do anything to get ourselves ready. And even if we hadn't been so weak, we wouldn't have known what to do anyway. We can understand someone dying for a person worth dying for, and we can understand how someone good and noble could inspire us to selfless sacrifice. But God put his love on the line for us by offering his Son in sacrificial death while we were of no use whatever to him" (Romans 5:6-8, "The Message").

That's grace.

It's the one thing in the universe that will always be amazing.

Even if this turns out to be one of those days where you shank your first tee shot into the rough.