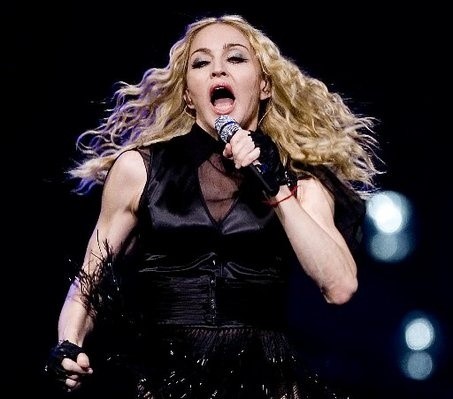 Throughout the month of August, we're taking a close look at 23 verses of the New Testament.  They comprise Ephesians chapter one, which paints one of the Bible's most comprehensive pictures of what it means for ordinary people to be "in Christ."  
 
Madonna, who turns 64 today, has had quite a career. 
 
She's the best-selling female recording artist of all time.  Her worldwide sales of 300 million records, in fact, trail only The Beatles, Elvis Presley, and Michael Jackson. 
 
She is the most successful singles artist ever on the combined Billboard charts, having scored multiple #1 songs in multiple categories, including Pop, Rock, Dance, and even Hot Country.  All in all, she has grossed over $1.4 billion from concert appearances.
 
Paul McCartney famously sang, "Will you still need me, will you still feed me, when I'm 64?"  Madonna isn't exactly spending her birthday checking out assisted living facilities.  She's shown no signs of slowing down and continues to solidify her spot as the greatest solo touring artist in music history. 
 
Which is why it seems incredible that she is continually battling self-doubt. 
 
For Madonna, life has always had a courtroom feel.  Every day, she's on trial.  What is the verdict?  Is she good enough or not good enough?  Is she genuinely special or just another fading rock star?  Here's what she said a few years ago in an interview in Vogue magazine: 
 
My drive in life comes from a fear of being mediocre.  That is always pushing me. I push past one spell of it and discover myself as a special human being, but then I feel I am still mediocre and uninteresting unless I do something else. Because even though I have become somebody, I still have to prove that I am somebody.  My struggle has never ended, and I guess it never will.
 
You have to say this much about Madonna: She is astonishingly transparent. 
 
She puts into words what most of us find hard to admit.  We're hoping against hope that our performance – as a worker, as a parent, as a servant, as a disciple, as an artist – will finally allow us to conclude that we are somebody.  We're good enough.  We're important.  We're valuable.
 
Yesterday may have been an awesome day.  But tomorrow's a different story.  The problem is that when we wake up we'll have to start all over again. 
 
In his book The Freedom of Self-Forgetfulness, pastor Tim Keller writes, "Madonna has done things that you and I are never going to do – and it is still not enough.  Madonna has heaps of talent, she has tremendous guts.  But even Madonna, despite everything she has done, says that she has still not found the ultimate verdict she is looking for."
 
One of life's most important lessons is that when it comes to performing our way to a happy verdict about our own worth, more is not more.
 
We will never be good enough.  Or talented enough.  Or smart enough.  Or pretty enough.  Or enough of anything.  Even if we get a good verdict one day, we may get the "thumbs-down" from the crowd just 24 hours later.
 
So it really comes down to this: Whose opinion of me really counts?
 
                Is it your opinion?
                Or my family's?
                Or my boss's?
                Or the people at my high school reunion?
                Or my friends on Facebook?
                Or my own opinion of myself?
 
The apostle Paul casts a different vote:  The only opinion that really counts is God's.  With God, the ultimate verdict is already in.
 
It's not inappropriate to call Ephesians 1 the "identity chapter."  More than any other patch of scripture, these verses describe our identity in Christ. 
 
Think of the territory we've already covered.  We are blessed, chosen, forgiven, predestined, adopted, loved, redeemed, and lavished with God's grace.  Where is all this leading?  Check out verse 12: "In order that we, who were the first to put our hope in Christ, might be for the praise of his glory." 
 
Have you decided to put your hope in Jesus?  Then you are already, and forever, somebody. 
 
You can get off the Performance Plan.
 
Which is incredibly good news. 

Even for almost-senior-citizen Material Girls.