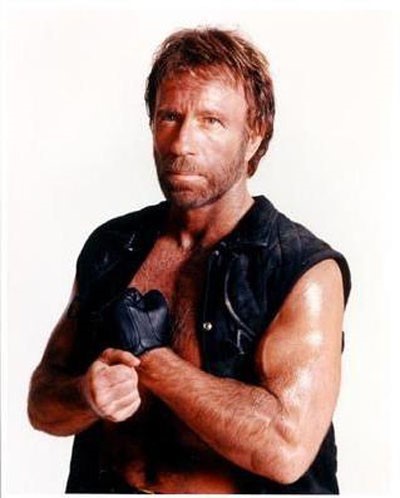 To listen to this reflection as a podcast, click here.

Some people wear Superman pajamas. Superman wears Chuck Norris pajamas.

That's one of hundreds of so-called Chuck Norris "facts" that for the past 17 years have fed a logic-defying cultural phenomenon and Internet craze.

In 2005 talk show host Conan O'Brien began to tell jokes about the martial arts fighter and actor whose credentials include the TV series Walker, Texas Ranger, and a host of B movies in which Norris basically defeats entire armies by himself.

Somehow the jokes took off. The satirical "facts" about Norris' toughness and masculinity propelled him to global superstardom. We visited this subject years ago in a morning reflection. But jokes just keep on coming, including a posting of 225 additional Chuck Norris quips just this year. Here's a sampling:

After Chuck Norris was born, he drove his mother home from the hospital.

There is no evolution. There are just creatures Chuck Norris allows to live.

Chuck Norris' tears can cure cancer. Unfortunately, he has never cried.

The flu has to get Chuck Norris shots every year.

Chuck Norris can cut through a hot knife with butter.

Chuck Norris is why Waldo is hiding.

Chuck Norris had perfect attendance in school. They never saw him, but they knew he was there.

When Alexander Graham Bell invented the telephone he had three missed calls from Chuck Norris.

There used to be a street named Chuck Norris. But the name was changed, because nobody crosses Chuck Norris and lives.

When Chuck Norris does a push-up, he isn't lifting himself up. He's pushing the earth down.

The actor himself has maintained a sense of humor about his online cult hero status. What is his favorite "fact" about himself? People wanted to add Chuck Norris to Mount Rushmore, but the granite wasn't tough enough for his beard.

This ongoing silliness had a brush with reality a few years ago when NPR reported that a bakery in eastern Europe, which had been repeatedly robbed, facetiously put a life-sized cardboard cutout of the actor in its front window. These words were posted alongside: "Premises Protected by Chuck Norris." The robberies immediately stopped. And one local tough guy quietly asked if he could get Chuck Norris' autograph.

Life is hard. Strength is mandatory. So what's your bedrock source of strength?

Is it what you alone bring to the table? Or are you selling out to a strength beyond yourself?

The most famous "power verse" in the Bible is probably Philippians 4:13: "I can do all things through him who gives me strength," where Paul is referring to Jesus. But right alongside it is Isaiah 41:10, where God makes this extraordinary promise to the deeply discouraged remnant of the people of Israel: "So do not fear, for I am with you. Do not be dismayed, for I am your God. I will strengthen you and help you. I will uphold you with my righteous right hand."

In his modern English translation called The Message, the late Eugene Peterson displayed a gift for bringing new life to well-worn verses. Here's how he rendered Isaiah 41:10: "Don't panic. I'm with you. There's no need to fear, for I'm your God. I'll give you strength. I'll help you. I'll hold you steady, keep a firm grip on you." (Isaiah 41:10, The Message)

No matter what "strength verses" speak most powerfully to you, this truth will always shine through:

God has it all over Chuck Norris. That's because he can move both heaven and earth.

And by his grace he can move you forward, too, even when it feels as if you can't take another step.