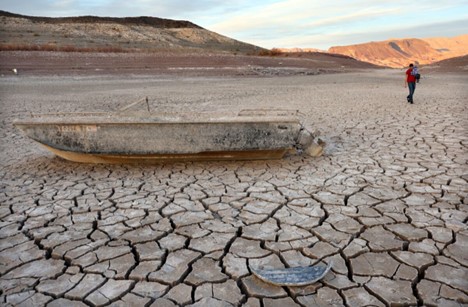 To listen to this reflection as a podcast, click here.
 
Residents of the American Southwest are hoping against hope they won't have to face two "dead pools" this year.
 
That sentiment has nothing to do with Deadpool, the wisecracking Marvel comic book character played by Ryan Reynolds. 
 
"Dead pool" is the worst-case scenario for Lake Powell and Lake Mead, the nation's two largest reservoirs – something that would happen if the level of the Colorado River falls so low that water could no longer flow through the colossal dams that created those lakes in the first place.  That would essentially turn off the tap for 40 million people whose survival depends on the once-mighty river. 
 
Historically, seven states have been part of its watershed:  Wyoming, Utah, Colorado, Nevada, New Mexico, Arizona, and California.  But the river isn't what it used to be.  The raging cascade that carved the Grand Canyon now doesn't even reach its original destination, the Gulf of California, but terminates in a series of marshes. 
 
That's because thousands of siphons along its course are drawing off its water for farms, cattle ranches, sprinklers, showers, Phoenix golf courses, and the Bellagio's dancing fountains in Las Vegas. 
 
Demand for the famous river's water has vastly outpaced supply.
 
But for geologists, engineers, and civic planners, the ultimate nightmare has been the last 20 years of drought and rising temperatures.  Lake Mead is now only 27% full, the lowest level in its 86-year history.  Scores of things that were assumed lost forever have begun to reappear: sunken boats, wrecked automobiles, and gangsters who apparently received offers they should have refused.    
 
Last winter's snowpack in the Colorado Basin, almost twice as much as normal, has turned out to be a much-needed gift.  But experts say that will provide just a one-year reprieve.  The entire region continues to live on the brink of disaster.
 
And when it comes to something as irreplaceable as flowing water, you can't keep living on the brink of disaster. 
 
The same thing is true when it comes to hearts that are parched for God.  None of us can live for very long in a spiritual desert. 
 
On the pages of the Bible, water is often symbolic of the flow of God's Spirit.  Streams and rivers are mentioned more than 150 times.  They include the four rivers that appear in the Garden of Eden at the beginning of the book of Genesis, and the life-giving river of the new creation that is described in the last chapter of the book of Revelation.  
 
One of the psalmists, describing the city of Jerusalem, tells us, "There is a river whose streams make glad the city of God, the holy place where the Most High dwells" (Psalm 46:4).  This is interesting, since there has never been a river in the vicinity of Israel's capital.  Jerusalem is, in fact, arguably the world's most important city without access to a navigable waterway.
 
What is the psalmist telling us?  
 
He's describing a different kind of river.  There's something in Jerusalem that alone can satisfy a thirsty soul.  It's the God who dwells at Israel's temple – the place that God's people considered the intersection of heaven and earth.  
 
As we turn from the Old Testament to the New, something important changes.
 
Jesus makes a stunning claim while visiting the temple.  "On the final and climactic day of the Feast, Jesus took his stand. He cried out, 'If anyone thirsts, let him come to me and drink. Rivers of living water will brim and spill out of the depths of anyone who believes in me this way, just as the Scripture says'" (John 7:37-38).
 
He is presenting himself as the new temple – the place where heaven and earth meet.  From now on he is the source of life-giving water.
 
That may be an insightful theological statement, but what are we supposed to do with it?
 
Try something like this: Go to your sink and turn on the tap.  Cup your hands under the flow of water.  Let the water fill your hands to overflowing.  Pray quietly, "Lord, my soul is running dry.  I believe that you can fill me again and again and again.  Please help me turn to you in the days ahead, no matter what I have to face.  Thank you that your Spirit will always sustain me."  
 
Or the next time you're standing in the shower, ask God to let his grace wash over you like refreshing water.  Ask him to drench you with peace.  And hope.  And courage.  You might pray, "Lord, help me remember that my life is not my own project.  My life is your project.  I belong to you." 
 
In a dry and arid land, whether the Colorado Basin or the Middle East, proximity to water is a matter of life and death.  Your orchards and flocks and the place where you live will have to be close enough to a deep well or a flowing river that you can be certain, every new day, that there will be enough water to survive.
 
Droughts may come.  Rivers may shrink.  Reservoirs may decline to critical levels.
 
In the end, you may even be forced to pull up stakes and move to wherever the water is.
 
But with Jesus, things are different. 
 
If we walk with him, his gift of living water always goes with us. 
 
Spiritual dead pools are no match for the One whose life-giving streams never run dry.