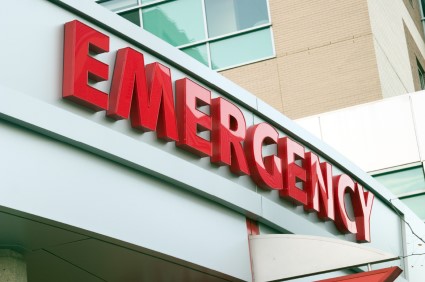 To listen to this reflection as a podcast, click here.

Some years ago, a woman named Patricia Miller, who worked in a hospital emergency room, recounted an experience that changed her life.

Things at first didn't seem to be heading in that direction.

She admits that she had "learned to stop crying at the pain around me. Each day it seemed I was becoming more insensitive to people and their real needs." Five years of exposure to the traumatic emotional roller coaster of the ER had taken its toll.

Then, seemingly out of the blue, God intervened.

Miller was gathering information about a young woman who had overdosed on drugs. She had apparently attempted suicide. The girl's mother sat nearby as she keyboarded the relevant registration data into her computer.

Miller recalls, "The mother was unkempt and bleary-eyed. She had been awakened in the middle of the night by the police to come to the hospital. She could only speak to me in a whisper." The information came slowly – too slowly for Miller. "Hurry up!" she thought to herself. Her impatience was raw. She finished the report and jumped up to copy the mother's medical cards.

"That's when God stopped me – at the copy machine. He spoke to my heart so clearly: 'You didn't even look at her.' He repeated it gently: 'You didn't even look at her.'"

Suddenly she felt a surge of grief – the grief that God must have felt for this woman and her daughter. She bowed her head. "I'm sorry, Lord. I am so sorry."

Patricia went back to the distraught woman. She sat down in front of her, and covered her hands with her own. "I looked into her eyes with all the love that God could flood through me and said, 'I care. Don't give up.'"

The mother wept. She poured out her heart. She had spent years as a single mom struggling to make sense of her daughter's anger, rebellion, and addiction. Miller writes, "Finally, she looked up and thanked me. Me…the coldhearted one with no feelings."

She concludes, "My attitude changed that night. My Jesus came right into the workplace. He came to see me free to care again."

It's interesting that historians have never been able to identify, with certainty, the so-called sacred places connected with the life and ministry of Jesus.

Despite what the tour guides say, no one knows the precise spot where he was born, the exact terrain where he fed more than 5,000 people with five loaves and two fish, the place just outside the walls of Jerusalem where he was crucified, the spot of ground where he told Nicodemus late one night that he had to be spiritually reborn, and even the garden where he was buried, only to emerge alive on the third day.

And that's a good thing, too. Otherwise we would be tempted to turn them all into theme parks.

But that doesn't mean there aren't holy places in the world.

Wherever you are when God intervenes in your life, opening your eyes and jumpstarting your flatlined heart – whether that happens in the middle of traffic, in the checkout line at Target, on your family room couch, in the back pew of a dimly lit sanctuary, or standing over the emergency room copy machine – you are truly on holy ground.