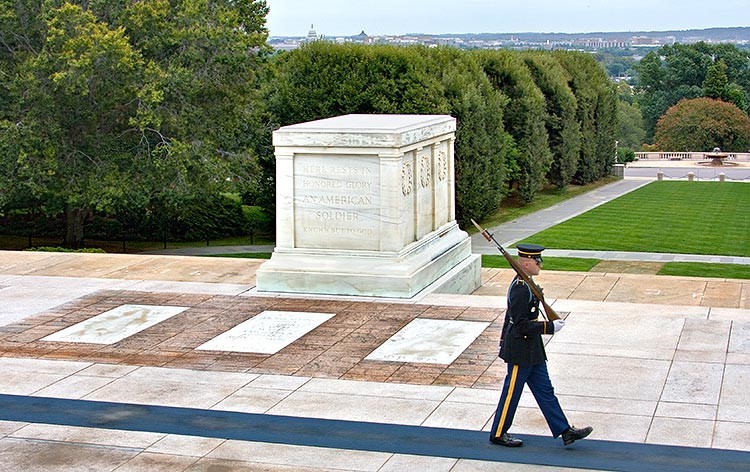 To listen to this reflection as a podcast, click here.

In the United States, the closest thing to hallowed ground is Arlington National Cemetery in Virginia.

Hundreds of thousands of soldiers and dignitaries are buried on its 624 acres.

Prior to the Civil War, the property was the estate of Robert E. Lee and his wife Mary, who was a great-granddaughter of Martha Washington. When Lee resigned his military commission to lead the armies of his native Virginia, which had declared war on the Union, Federal troops quickly moved in. The Arlington estate, after all, loomed high above the Potomac River just across from the nation's capital, making it strategically significant. The Confederates, in other words, could have mounted cannons and aimed them directly at the heart of the Lincoln administration.

As the war dragged on and Northern cemeteries began to overflow, Quartermaster General Montgomery Meigs – who had been a West Point classmate of Lee's and despised his old friend's decision to join the Southern cause – proposed that Arlington become a cemetery. Why not bury Northern soldiers on the land that was owned by the most painful thorn in the Union's side?

Meigs personally supervised the burial of 26 Union soldiers in Mary Lee's rose garden. It was his intention that when the Lees returned to their estate after the war, they would have to look out their windows every day and be reminded of their betrayal.

By the end of the war, there were more than 7,000 Union dead interred on the property. One of them was Meigs' own son. It's sobering to grasp that the decision to create Arlington National Cemetery was stoked by personal bitterness.

But after a century and a half, the bitterness has morphed into something like holiness. Arlington is truly a special place.

Presidents are buried there. JFK's tomb is marked by an "eternal flame." Remains of the astronauts from Apollo 1 and the Space Shuttles Challenger and Columbia are also memorialized.

There are gravestones of almost 400,000 soldiers who have served the United States through a half dozen wars. Their names, ranks, and spans of life are chiseled into stone, and every grave is decorated with a flag every Memorial Day. About 25 new burials take place every day, and three months ago I had the honor of presiding at one of them – the interment of a dear friend, the wife of a Marine colonel.

Then there's the Tomb of the Unknowns.

Inside a 72-ton marble monument lie the remains of three men who have never been identified – one each from World War I, World War II, and the Korean War.

The Tomb of the Unknowns has been guarded unceasingly since July 2, 1937. Those who provide this service all belong to the 3rd U.S. Infantry Regiment, known as the Old Guard, which was formed in 1784 and is the oldest active-duty infantry unit in the Army.

The soldier on guard marches 21 steps along the black mat behind the Tomb; turns and faces east for 21 seconds; turns and faces north for 21 seconds; then walks 21 steps back down the mat. The number 21 signifies the honor of a 21-gun salute.

A meticulous changing of the guard takes place every half hour in summer, every hour in winter, and every two hours at night – every day of the year, regardless of weather conditions.

Why so much focus on three human beings whose names we don't even know – whose lives are over, and whose contributions, for all we know, were militarily meaningless?

The simple answer is that every human life matters. Those three soldiers are unknown to us. But their identities and their stories are fully known to God.

"You have searched me, Lord, and you know me… You are familiar with all of my ways… Where can I go from your Spirit? Where can I flee from your presence?" (Psalm 139:1,3,7)

No human life is trivial.

Every time we see another human being, we are gazing at someone who bears the stamp of God's own being.

On this Memorial Day, when we remember to remember those who have laid down their lives, we can know that we are always in the presence of a God who never forgets.