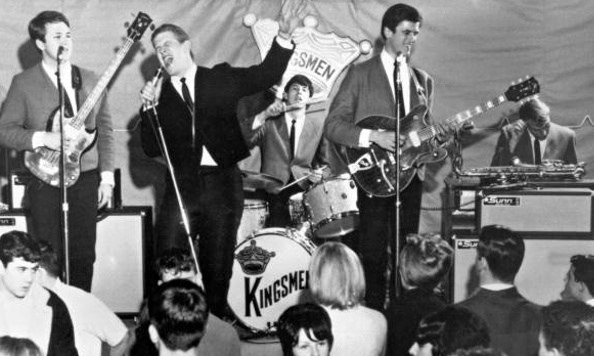 To listen to this reflection as a podcast, click here.
 
"It's the best of songs, and it's the worst of songs."
 
That's the verdict of Dave Marsh in his book Louie Louie: The History and Mythology of the World's Most Famous Rock 'n' Roll Song. 
 
In 1964 a Seattle band named the Kingsmen released their own version of a raucous Caribbean chantey that had been composed nine years earlier by an artist named Richard Berry.  At first, local DJ's were less than impressed.  But the teenagers who heard Louie Louie on the radio loved its pounding rhythms and strangely inscrutable words.
 
In one of the strangest episodes in the history of the FBI, those words became a very big deal.  Were American kids being unduly influenced by subversive lyrics? 
 
Let's begin by setting the record straight:  The lyrics are no big deal.  They describe a homesick Jamaican sailor pining for his girlfriend.
 
Jack Ely, lead singer of the Kingsmen, had been struggling with new dental braces during the recording session.  And he had to stand on his tiptoes to reach the overhead mic.  The result was a less than sterling vocal performance.
 
Somehow the lyrics became a national obsession.  Were Ely's words vile?  Suggestive?  Politically dangerous?
 
J. Edgar Hoover decided that the FBI needed to know.  Thus began an in-depth, 30-month investigation.  Before it was over America's top cops had conducted dozens of interviews and generated hundreds of pages of documents.
 
Matthew Welsh, who was governor of my home state of Indiana at the time, decided to be proactive.  He attempted to ban Louie Louie from all Hoosier radio stations.  Naturally that only fed the fascination.
 
The FBI pressured the Kingsmen to come clean.  They threatened one member with jail.  Agents collected numerous alleged versions of the "real lyrics," most of which exceeded the boundaries of good taste and plausibility.  In the crime lab they sped up and slowed down the record, but ultimately concluded that "none of the speeds assisted in determining the words."
 
The official verdict?  No charges were ever filed.  No scandal was ever uncovered. 
 
Interestingly, Louie Louie was the Kingsmen's only hit, and it never reached #1 on the Billboard charts.  In early 1964 that spot belonged to Dominique by Sister Luc Gabrielle, the Singing Nun.
 
Nevertheless the song became one of the most famous pop anthems of all time.  American Songwriter magazine has actually suggested it might be the most important rock song of all time.  Such is the power of a good conspiracy theory.  Here's vintage footage of the Kingsmen singing on that very cool, 1960s concert show Shindig. 
 
It's safe to say that there's more at stake when it comes to figuring out the meaning of the Bible's words.
 
Is it really true, as some people say, that you can make the verses of the Bible mean anything you want?  Is its essential message garbled, confused, and up for grabs?
 
Here's a timeless principle for scriptural interpretation:  We must shout where the Bible shouts, and whisper where the Bible whispers.
 
The Bible whispers about many things: how to run a church, what angels might be doing at this moment, and what the views will be like in heaven.  The Bible says nothing at all about fast food, theme parks, prescription drugs, lawn mowers, dental care, air conditioning, presidential elections, and how the groom's family should be seated at a wedding.
 
We're always on safe ground if we refuse to believe there's such a thing as "the Bible's true position" on such subjects.
 
But when the Bible shouts, it really shouts.
 
The Bible shouts about the value of every human being.  That life isn't over when it's over.  That this moment counts forever.  That character and integrity are of supreme importance.  That God is not silent, and has self-revealed through Jesus.  That it matters how we respond to God's offer of a grace-powered life.  That loving and serving others is God's desire for every one of us.
 
Those are powerful words.
 
And there's no need for an FBI investigation to confirm that they describe the heart of a life well lived.