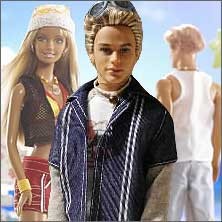 To listen to this reflection as a podcast, click here

It's been a big year in Hollywood for toys and games.

The summer blockbuster Barbie has now raked in more than $1.3 billion in global receipts, and is expected to overtake the $1.36 billion haul of The Super Mario Brothers Movie.

Director Greta Gerwig's fantasy about Mattel's most famous toy visiting "the real world" is a visual blast. It also delivers messages about gender stereotypes, female empowerment, and the search for personal identity – a lot to put on the slender shoulders of a plastic doll.

Barbie's cinematic quest to discover the meaning of her own existence includes an encounter with the spirit of Ruth Handler, who with her husband Elliot invented a new kind of fashion doll in 1959 and named it for their daughter Barbara. A male doll named Ken arrived two years later.

For 43 years, Barbie and Ken were the perfect polyurethane couple.

Sure, four decades is an alarmingly long time to go steady. But everybody assumed that Ken would ultimately get his act together and pop the question.

Then suddenly, in 2004, in a move that even The National Enquirer didn't see coming, Barbie dumped Ken.

In a press release, the folks at the Mattel corporation who craft her fictional biography (her real name is Barbara Millicent Roberts, and she hails from Willows, Wisconsin) reassured the public that Ken and Barbie would spend "quality time apart" and "remain friends." That's a nice way of saying that the fantasy was over.

Barbie, in the meantime, took up with an Australian boogie boarder named Blaine. He's front and center in the picture above, as heartbroken Ken walks away. Even I must admit that Blaine looks pretty hot.

Ken wasn't the only one who was crushed by this development. Barbie's sales, which have always been extraordinary – it is estimated that three Barbie dolls are sold every second somewhere in the world – suddenly took a nosedive.

In the Barbie movie, Mattel's CEO is played to goofy perfection by Will Ferrell. When Barbie suddenly appears in the real world, he panics. "No one rests until this doll is back in a box!" In the really real world of 2006, Mattel's executives panicked. The experiment was over. It was time for Ken to win back his girlfriend.

According to reliable toy marketing sources – and I am not making this up – Ken began to work out. His body became lean and buff. He pioneered some new fashions. He even became "spiritual" – that's the term Mattel used – all in an effort to rekindle the love that he and Barbie used to share.

Ken appeared on billboards across the country: "Barbie, I want you back," and, "You're the only doll for me."

On Valentine's Day 2011 it became official. Barbie and Ken once again became an item. Mattel then purchased billboards in which Ken proclaimed, "Barbie, we may be plastic, but our love is real."

Of course, even someone with the IQ of a Barbie or Ken doll knows that real love is more than skin deep. It has little to do with whatever money, chemistry, or self-improvement initiatives we bring to the table.

But the idea persists in Western culture that you've got be lucky to find love. And if you're not lucky – if you weren't born with Barbie's looks or Blaine's amazing hair – then you'd better make your own luck by buying the Malibu Ken wardrobe or captivating others with a remarkable personality. Otherwise you may have to go through life alone.

And that would be a tragedy. All of us are desperate to experience true love. We know we cannot live without it.

Yet our own experiences of love are inevitably conditional. We tend to love others only as long as they love us back. There is a mercenary quality to our relationships. We love others in the hope and expectation of being loved in return.

It's pretty clear what we need: More than anything else, we need someone who doesn't need us.

There is only one such person in the universe. It is God.

God loves us for our own sake, not his. The apostle John puts it this way: "This is love: not that we loved God, but that he loved us" (I John 4:10).

From before the beginning of time, God knew us and loved us into existence.

Which means that the fantasy we have always yearned for, incredibly, just happens to be Reality.