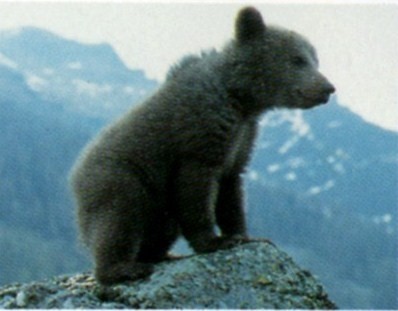 To listen to today's reflection as a podcast, click here
 
In 1988, moviegoers fell in love with a French film that has virtually no soundtrack and minimal dialogue.
 
Human dialogue, that is.
 
L'Ours (that is, The Bear) is the story of a young cub whose mother is killed by a rockslide in 1885 British Columbia. 
 
The orphaned cub now has no realistic hope for survival. 
 
Touchingly, however, he comes under the care of an enormous male Kodiak bear.
 
The Kodiak watches over him, shows him where to find food, and guides him through the unforgiving wilderness.
 
The larger animal, in other words, teaches the cub how to be a bear.
 
Together they face one challenge after another, even eluding a group of human hunters who were hoping to bring back a trophy.
 
One day they become separated.
 
A cougar takes this opportunity to close in on the cub. 
 
It's clear when you watch the confrontation that the cub has reached the limit of his resources.
 
The cub makes a final stand against the predator, but can muster only a frightened shriek. 
 
This is the end.
 
That's when a look of abject terror crosses the face of the cougar.
 
The camera pivots to let us see what the big cat sees, and what is completely unknown to the cub: the massive Kodiak has come up behind his adopted son and is ready to defend him to the death.
 
The cougar exits, stage left.
 
Life is a serious of challenges.  Sometimes you will come to the end of your resources.  Today you may be facing a challenge that has left you wondering if you can possibly survive.
 
In all the uncertainties of your current situation, there is one thing you can know for sure:
 
You are not alone.  Someone is watching over you.  And you can run to Him, the way the cub runs to his adopted father at the end, to experience a love like no other.
 
So do not fear, for I am with you;
    do not be dismayed, for I am your God.
I will strengthen you and help you;
    I will uphold you with my righteous right hand.
(Isaiah 41:10)
 
You are perfectly safe in your Father's care.
 
Even when you don't have eyes to see.