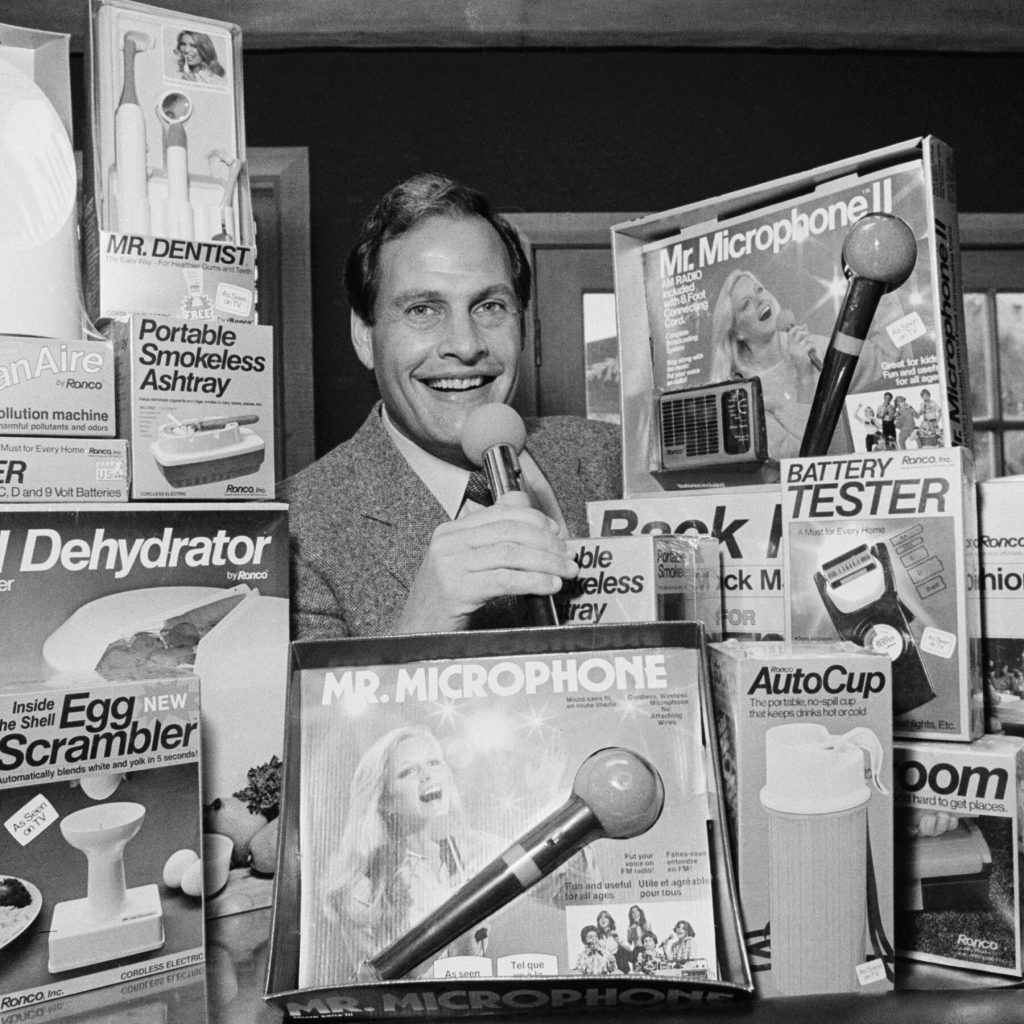 To listen to this reflection as a podcast, click here.
 
Ron Popeil has almost certainly made an impact on your life, even if you don't recognize his name or face.
 
Popeil, who died two years ago at the age of 86, was the founder of Ronco, the company which gave birth to the Veg-O-Matic and dozens of other novelty inventions.
 
In the 50s and 60s he made his living as a pitchman at Woolworth's in Chicago.  Sometimes he worked 10 hours a day, doing endless demonstrations of products that he insisted would revolutionize the way Americans cook and eat.
 
Popeil knew how to work his audience.  He anticipated their questions.  He understood their doubts and fears.  Miraculously, at least in their minds, he kept lowering his prices.  "I talked.  I yelled.  I hawked. And it worked!" he remembers. 
 
Most of all, he learned the power of four words:  But wait, there's more!
 
Those are the four words that became Popeil's trademark when he began to do his first TV infomericals.
 
Concerning the Veg-O-Matic, he promised:  "When chopping onions with this machine, the only tears you will shed will be tears of joy."  There was GLH-9 ("Great Looking Hair Formula #9), which was Popeil's solution to male pattern baldness: a spray can that produced a mist of colored paint. 
 
He hawked the Smokeless Ashtray, Automatic Pasta Maker, Food Dehydrator, and the Rhinestone Stud Setter: "It changes everyday clothing into exciting fashions, and you don't have to spend a fortune."
 
His Showtime Rotisserie?  "Set it and forget it!"
 
Popeil loathed "that white stuff" that sometimes afflicted his incompletely blended scrambled eggs, so he invented the Inside-the-Shell Egg Scrambler.  After using the scrambler, just crack the shell and pour out a perfectly blended egg.
 
Then of course there was Mr. Microphone, a short-range, hand-held transmitter that could be broadcast over an FM radio.  Popeil's infomercial yielded one of the most cringe-worthy lines in advertising history.  A young man preening in a convertible picks up his Mr. Microphone and broadcasts to a nearby girl: "Hey, goodlookin,' we'll be back to pick you up later!"
 
Unsurprisingly, Ron Popeil's advertising style has been endlessly parodied.  Dan Ackroyd's Bass-O-Matic on Saturday Night Live is a memorable example.
 
Popeil didn't care.  He made a fortune selling his products and had a blast doing so.
 
But wait, there's more.
 
Consider the apostle Paul's amazing statement in Ephesians 3:20-21:  "Now to him who is able to do immeasurably more than all we ask or imagine, according to his power that is at work within us, to him be glory in the church and in Christ Jesus throughout all generations, for ever and ever!  Amen."
 
In his book All the Places to Go, John Ortberg points out that the idea of "more" is at the very center of the Good News:
 
God is able to do what we ask.
God is able to do what we ask and what we imagine.
God is able to do all that we ask and imagine.
God is able to do more than all we ask and imagine.
God is able to do immeasurably more than all we ask or imagine.
 
When he wrote the book of Ephesians, Paul was stuck in a jail cell, having been unjustly imprisoned.  Yet his mind was drawn to the fact that there are no limitations to God's ability to provide.
 
Where do you feel stuck today? 
 
You may feel blind to what God is doing right now.  You may have concluded you'll never be able to step beyond the "prison walls" of your circumstances or your discouragement. 
 
But God is able to do immeasurably more than all we ask or imagine.  And he has promised that he will never leave us or forsake us (Hebrews 13:5). 
 
And when we experience our first jaw-dropping impressions of life in the next world, where the curtains will finally be pulled back on the presence and power of the God who has always been there, it's just possible that he will greet us with four familiar words:
 
But wait, there's more.
 
A whole lot more.