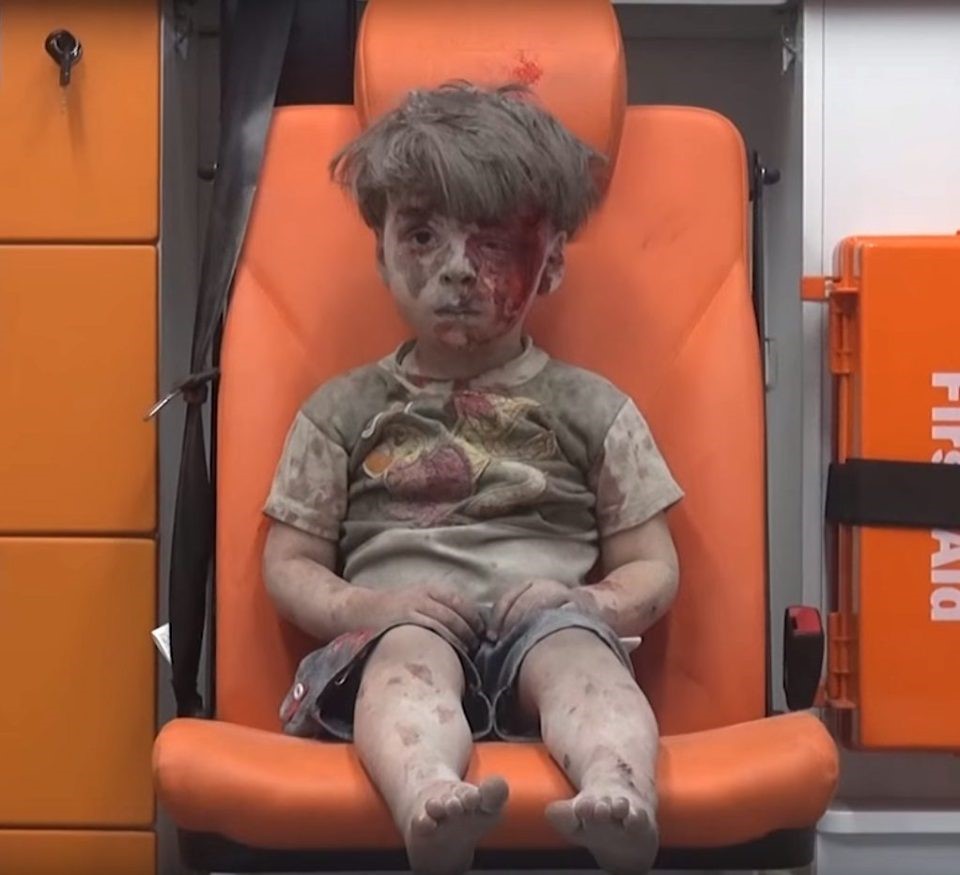 To listen to this reflection as a podcast, click here

Seven years ago this summer, Omran Daqneesh became known simply as the Syrian Boy.

Dazed, covered with dirt and blood, the five-year-old sat in an ambulance after an August 17, 2016, airstrike reduced his home in Aleppo to a heap of ruins. 

Omran gave the world a face to remember as people tried to come to terms with the horrific Syrian civil war.

His picture above, which appeared in newspapers and on websites the world over, quickly became an emotional talking point.  Were Western journalists trying to manipulate global opinion concerning Syria?  Did one of the warring factions photoshop the image?  Who stood to gain by exploiting this painful moment in the life of a child?   

A six-year-old American boy named Alex, who lives with his family outside New York City, didn't wrestle with any of those questions.  Instead, he penned the following letter to the White House:

Dear President Obama,

Remember the boy who was picked up by the ambulance in Syria?  Can you please go get him and bring him to [my home]?

Park in the driveway or on the street and we will be waiting for you guys with flags, flowers, and balloons.  We will give him a family and he will be our brother.  Catherine, my little sister, will be collecting butterflies and fireflies for him.

In my school, I have a friend from Syria, Omar, and I will introduce him to [Omran].  We can all play together.  We can invite him to birthday parties and he will teach us another language.  We can teach him English, too, just like my friend Aoto from Japan.

Please tell him that his brother will be Alex who is a very kind boy, just like him.  Since he won't bring toys and doesn't have toys Catherine will share her big blue stripey white bunny.  And I will share my bike and I will teach him how to ride it.

I will teach him additions and subtractions in math.  And he [can] smell Catherine's lip gloss penguin which is green.  She doesn't let anyone touch it.

Thank you very much!  I can't wait for you to come!

Alex
6 years old

If you've ever wondered whether a child's letter actually comes to the attention of the leader of the Free World, you might be surprised to learn that President Obama read Alex's handwritten note at a meeting of the United Nations Leaders' Summit on Refugees. 

He struggled to control his emotions.

Jesus said that unless we become like children – like Alex – we'll always be standing on the outside of God's kingdom, looking in. 

What will it look like when the words of the Lord's Prayer finally come true: when God's kingdom comes and God's will is done "on earth as it is in heaven"?

People will collect butterflies and fireflies to give to those who hurt.  They will invite others into their families and share their bikes and big blue stripey white bunnies.

And they will form welcoming committees to greet each other with flags, flowers, and balloons.

That is more than just a child's dream.

It's a dream worth living for, praying for, and working for every day.