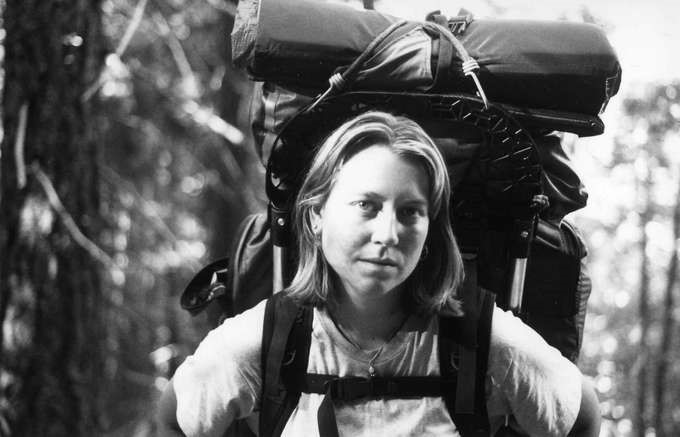 To listen to today's reflection as a podcast, click here
 
In the summer of 1995, 26-year-old Cheryl Strayed solo hiked 1,100 miles of the Pacific Crest Trail.
 
The PCT traverses some of America's most daunting wilderness areas.  Cheryl strode from the Mohave Desert through the Sierra Nevada Mountains to the Cascades of the Pacific Northwest.
 
Her adventures are documented in her best-selling memoir Wild: From Lost to Found on the Pacific Crest Trail.  Reese Witherspoon received a Best Actress Oscar nomination for her portrayal of Strayed in Wild, the 2014 film adaptation of the book.
 
By her own admission, her life was a mess.
 
She felt crushed by the cancer death of her mother two years earlier.
 
Within the previous 12 months she had essentially sabotaged her marriage.  "I broke my own heart," she wrote.
 
Her divorce papers included this question:  What name do you plan to use in the future?  Up to that moment she had been Cheryl Nyland.  "That blank line stuck in my heart.  I would choose a new name for myself."   Ultimately she felt drawn to "strayed."
 
"The layered definitions spoke directly to my life:  To wander from the proper path, to deviate from the direct course, to be lost, to become wild, to be without a mother or father, to be without a home, to move about aimlessly in search of something, to diverge or digress."
 
She felt like a stray.  A stray who had strayed.  So she would be Cheryl Strayed.
 
She was woefully unprepared to tackle one of the world's toughest trails.  She had no training and little understanding of the perils she would be facing.
 
She began her hike in the California desert with so much stuff that she could barely lift her own pack, a back-breaking burden that she decided to call Monster.  Her brand new boots were a size too small.  Halfway through her trek her feet hurt so badly she could barely walk. 
 
Another PCT hiker glanced at her shoes and observed that they were from REI (Recreational Equipment, Inc., the outdoors superstore).  "Why don't you exchange them?" he suggested. 
 
Right.  As if that could happen in the middle of nowhere.  Strayed didn't even have enough money to cover shipping.  Just call them, the other hiker persisted.
 
With no expectations, Strayed dialed REI's number from a pay phone at the next PCT rest area. 
 
"We'd be delighted to send you a new pair of boots, one size larger," said the REI rep.  No questions asked.  No need to beg or plead.  No need to turn in the old ones.  Free of charge.  Free shipping.  "Look for them at the mailroom at the next PCT rest stop."
 
Her new boots did indeed arrive, just as promised.  And they carried Strayed and her sore feet all the way to the state of Washington.
 
God's exchange policy is a bit like REI's. 
 
We may be going through life crippled.  Self-crippled, for that matter.  We're spiritual strays who may have no clue that amazing grace has always been available.
 
"Now that we know what we have—Jesus, this great High Priest with ready access to God—let's not let it slip through our fingers. We don't have a priest who is out of touch with our reality. He's been through weakness and testing, experienced it all—all but the sin. So let's walk right up to him and get what he is so ready to give. Take the mercy, accept the help" (Hebrews 4:14-16, The Message). 
 
It's free. 
 
Just call.