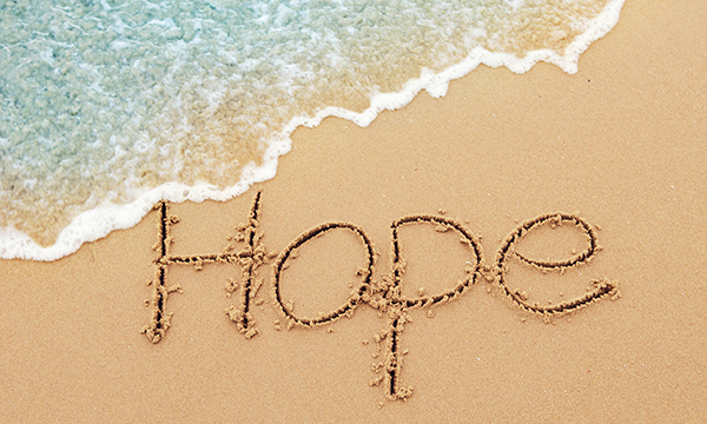 What the world needs now is hope.

That's not as catchy a song title as Burt Bacharach's What the World Needs Now is Love. And the Beatles never wrote a rock anthem titled All You Need is Hope.

But we live in a dream-shattering, hope-crushing world. "People in many nations appear to be searching with a new intensity for spiritual moorings. One of the key factors prompting this search is certainly a need for hope in these troubled times." Even though pollster George Gallup wrote those words almost 40 years ago, their relevance has only grown.

I Corinthians 13:13 asserts, "And now these three things remain: Faith, hope, and love. But the greatest of these is love." Faith we recognize, and no one can deny the supreme importance of love. But how did hope get in there? Hope is like the plain stepsister who gets squeezed into the background of the family photo.

On the pages of Scripture, however, hope is no small matter. The word itself appears more than 160 times, in dozens of contexts.

Our exercise of hope, unfortunately, all too often falls into one of three familiar categories. As author Lee Strobel points out, none of these reflect the biblical perspective, and none equip us for living in the real world. Run-of-the-mill hope is either wishful thinking or blind optimism or is related to the achievement of personal dreams.

Hope is just wishful thinking when I cross my fingers and blow out the candles on my birthday cake and wish that somehow, something improbable will actually come about – that gasoline, for example, will cost thirty cents a gallon tomorrow. As business leaders (especially those with financial responsibilities) regularly affirm, "Hope is not a strategy."

Hope in the sense of blind optimism means refusing to face the way things really are: "I played around all semester and didn't study, so I sure hope my finals have questions I can already answer."

Hope in the sense of personal dreaming might mean, "I've always hoped to finish a marathon. Therefore I will work and train and do whatever it takes to make that hope become a reality." The problem with personal dreaming is that we're not always in control of circumstances. A nasty bout of stomach flu on the morning of the race is enough to effectively crush our hopes.

In the Bible, however, hope is different. Hope is something that is definitely going to happen, but not just yet.

Note the opening words of the New Testament book of I Peter: "Praise be to the God and Father of our Lord Jesus Christ! In his great mercy he has given us new birth into a living hope through the resurrection of Jesus Christ from the dead."

God offers a living hope – a renewable spiritual resource that is "living" because it connects us to a living Savior.

That Savior promised his followers three things:
Life is hard. We will never be alone. Everything, in the end, will be set right. "And all shall be well, and all shall be well, and all manner of things shall be well." (Julian of Norwich)
In the midst of chaos, exasperation, and disappointment, we cannot anchor our lives on wishful thinking or blind optimism.

That's why, for followers of Jesus, HOPE can be an acronym: Hang On. Pain Ends.

During this Thanksgiving week, what the world needs now is the God-provided assurance that – all appearances to the contrary – this broken world and we ourselves shall one day be healed.