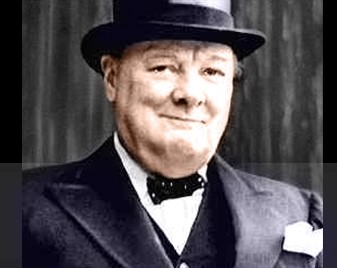 To listen to this reflection as a podcast, click here.
 
Sir Winston Churchill lived what was arguably the most remarkable life of the twentieth century.
 
He was an unrivalled public speaker
A skilled oil painter
The winner of a Nobel Prize for Literature
All despite the fact he had been a mediocre student
He struggled to please his distant, demanding father
And his socialite mother rarely gave him the time of day
He performed heroically for the British Army in Africa
And his career in Parliament took off like a rocket
Then it all crashed to the ground when he was unfairly scapegoated
Powerful people blamed him for Britain's worst defeat in World War I
Between the wars it was assumed he was "out of the game"
He often came across as vain and impetuous
And there were few days without cigars, booze, and an afternoon nap
He was a master of clever one-liners and social repartee
Fearless in the face of daunting odds
Called into power during his nation's darkest hours in World War II
And under his leadership, they became Britain's finest hours
He was the final obstacle to total Nazi domination of Europe
Yet two months after winning the war, he was voted out of office
Then asked to become Prime Minister again six years later
 
He was overwhelmingly acclaimed, in 2000, as England's most important figure of the previous 100 years.
 
Churchill was all that and more.
 
He could be glum.  He once groused, "We are worms.  All worms."
 
Then with a smile and a wink he added, "But I do believe I am a glowworm." 
 
Churchill died in 1965.  His service, which was held in St. Paul's Cathedral in London, was the largest state funeral in history up to that time.  Representatives of 112 nations attended, and it's estimated that 10% of the world's population watched the event live on TV. 
 
At the end of the service a lone bugler, perched high in the dome of the cathedral, played Taps. 
 
The mournful tune – "day is done, day is done" – signifies the end of activity in a military camp.  The day is finished.  It's over. 
 
Just as the mourners concluded that the service was finished, another bugler began to play from the other side of the dome – an exuberant tune that Churchill himself had chosen.
 
It was Reveille: "You've got to get up, you've got to get up, you've got to get up in the morning…"
 
Churchill was convinced that life isn't over, even when it's over. 
 
And Jesus' empty tomb is God's assurance that Prime Minister Glowworm wasn't just blowing his own horn.