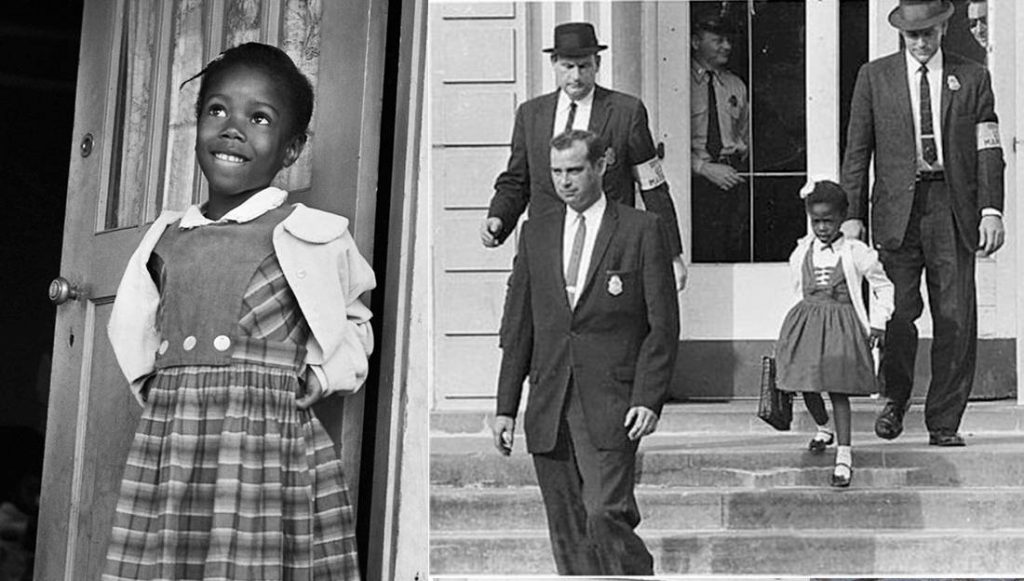 To listen to this reflection as a podcast, click here.

She became known as the little girl who seemed to be carrying the weight of the world on her shoulders.

For the better part of a year, six-year-old Ruby Bridges walked to school in the company of armed federal marshals who were assigned to protect her.

William Frantz Elementary in New Orleans, like many schools in the American South, had long defied the Supreme Court's 1954 mandate to admit blacks to all-white public institutions. The city school board had demanded that African American children take an "entrance exam" – a tactic clearly designed to exclude kids who grew up in poverty, a majority of whom would be black.

But Ruby and five other African American children passed the test. Two chose to stay in their current segregated schools. A trio of girls (who became known as the McDonogh Three) decided to attend McDonogh School No. 19. That left Ruby. On November 14, 1960, she began her first walk to Frantz Elementary.

From the start, it wasn't going to be easy.

A number of whites openly resented this "invasion" of their world. A white woman let it be known that she would poison Ruby as she made her way to class. Since both city and state police refused to protect her, federal escorts had been summoned to New Orleans.

On her first day of class, white parents pulled their kids out of school. Teachers refused to teach. Protesters formed a gauntlet along Ruby's route, shouting obscenities and threatening violence.

The next day, however, a 34-year-old white Methodist preacher named Lloyd Foreman walked with his five-year-old daughter Pam down the same screaming gauntlet. Gradually, other whites returned to class. A teacher named Barbara Henry consented to teach Ruby as a class of one for the entire year. Day after day, the six-year-old made her transit down the sidewalk in the face of defiant racism and death threats, accompanied by armed guards.

How did she endure such discrimination? What could she possibly have been thinking during all those walks?

We know the answer to those questions for the simple reason that someone decided to ask her.

Psychology professor Robert Coles had been fascinated by the specter of Ruby Bridges and the McDonogh Three. He saw them as excellent case studies for his ongoing research into how children handle stress. He approached the families of these young girls and asked their permission to have a series of conversations.

The Bridges, at first, were skeptical. No white person had ever been inside their house. They knew the dangers Ruby was facing on a daily basis. But her mother was convinced that her daughter was accomplishing something on behalf of all African Americans. They were determined to stay the course.

Coles quickly discerned that when it came to moral courage, he was way out of his league.

He had come to New Orleans as the expert. He had earned multiple degrees. He would one day appear on the cover of Time magazine and be described as "the most influential psychiatrist in the United States." His five-volume masterpiece, Children of Crisis, would win the Pulitzer Prize. He taught at Harvard, for crying out loud.

But as Philip Yancey points out in his brief biography of Coles, "As time went on…he felt a reversal of roles take place. He was the student, not Ruby, and she was teaching him an advanced course in ethics."

Coles asked what she was thinking while walking to and from class.

Ruby answered that she was praying. She asked God to help her be strong and unafraid. And she prayed for her tormentors – that God would forgive them. After all, she said, "Jesus prayed for them on the cross. Forgive them, because they don't know what they're doing."

Coles was floored. If he had constructed an academic hierarchy of moral development, "magnanimous love for enemies" would have been at the very top. He had long thought that only a handful of saints and religious leaders merited inclusion in such a category.

But here was a six-year-old girl who had grown up in poverty and deprivation displaying unrivalled courageous love.

Coles came to realize that the "experts," like him, who inhabited the domain of higher education, honestly didn't know what they were talking about when it came to oppressed people.

Books were published and theories were presented with regal assurance. But until he sat in the barren living rooms of the poor, and took the time to ask children and their parents what they were actually thinking and feeling, he had only been guessing.

In particular, until he talked to Ruby Bridges, he had no idea that Jesus' Sermon on the Mount had helped a six-year-old girl survive a daily gauntlet of hatred.

Ruby is now 68 years old. She's a wife and mom of four sons and still lives in New Orleans. She's devoted most of her life to civil rights activism, and currently chairs the Ruby Bridges Foundation, an organization that seeks to promote "the values of tolerance, respect, and appreciation of all differences."

In 2010, at a celebration of the 50th anniversary of her first day at Frantz Elementary, she stood publicly with Pam Foreman, the minister's daughter who had joined her at school on the second day.

Whatever you're facing at this time of your life – even if it feels like walking a gauntlet of mistrust and misunderstanding – may God give you the grace to love with a love that is not your own.

And in the process, may you find yourself standing alongside new friends and allies.