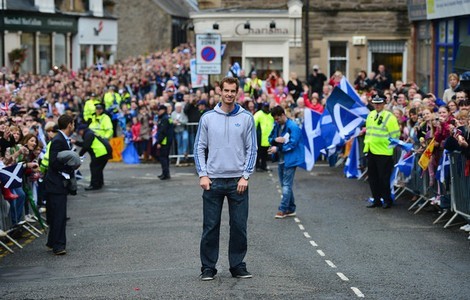 To listen to this reflection as a podcast, click here.

A Scottish village of about 8,500 residents has been in the world's spotlight twice in the past 30 years.

Dunblane has become famous as the hometown of Andy Murray, the first British man to win a Wimbledon singles title in 77 years – a feat he accomplished against the great Novak Djokovic in 2013.

Murry reached #1 in the world three years later. Last Friday, after losing an epic five-set match to Stephanos Tsitsipas on the Wimbledon grass, he hinted that his lengthy career might finally be coming to an end.

Dunblane, unfortunately, also has another association.

In March 1996, a deranged middle-aged man named Thomas Hamilton walked into the local Primary School. He gunned down 16 children and a teacher before turning his revolver on himself.

One of the 8-year-olds in the school, hiding in terror under his desk, was Andy Murray. The tennis player has been asked from time to time about the shootings. He has always been reticent to share his feelings.

But after Murray won the Gold Medal for Men's Tennis in the 2012 London Olympics – the first time a Brit had done so in over 100 years – and followed that up a month later by winning the U.S. Open, he didn't stage a big party in London with his friends.

He went home to Dunblane.

His grandmother told a sports reporter, "I think deep within him he wanted to do something, to put Dunblane on the map for the right reasons rather than the wrong reasons." Thus the shy Scot presented himself for a day of celebration in which he was literally the one and only feature in a town parade.

It was a redemptive moment for a whole community.

What can we do in the face of overwhelming evil? As America experiences one mass shooting after another, how can such tragedies ever be redeemed?

Here's what Charles Chaput, Archbishop of Philadelphia, said after the Sandy Hook preschool massacre in 2012: "The only effective antidote to the wickedness around us is to live differently from this moment forward."

John Drane, a pastor who was ministering near Dunblane at the time of the tragedy, recounts what happened a few days later:

Once, on the way to the school gate, which had been turned into a place of quiet, I saw a group of youths between 17 and 20 years old.

I saw them place 16 candles – one for each child who died – in a circle on the damp street and light them with a cigarette…

They saw me and realized that I was a pastor, and called me with the words, "You know what to say in situations like this." As I stood there with tears streaming down my face, I had no idea what to say. So we just stood there, holding hands.

After a moment, I spoke a short prayer. Then the teenagers also started to pray.

One said, "I must change!" and, glancing toward a group of policemen, pulled a knife out of his pocket. He kneeled by the candles and said, "I don't think I need this anymore," then hid the knife under some flowers. Another pulled a piece of bicycle chain from his pocket and did the same.

After standing together for a moment longer, we went on our way.

Drane concludes: "Was God in Dunblane? Of course."

Is God present at every one of the tragedies that seem to lead off our nightly news? Of course.

We, too, must change. Things must be different from this moment forward.

Hope, graciousness, and ardent love must show the way. By God's grace, may we seek to redeem our world.

Even in the midst of unspeakable pain.