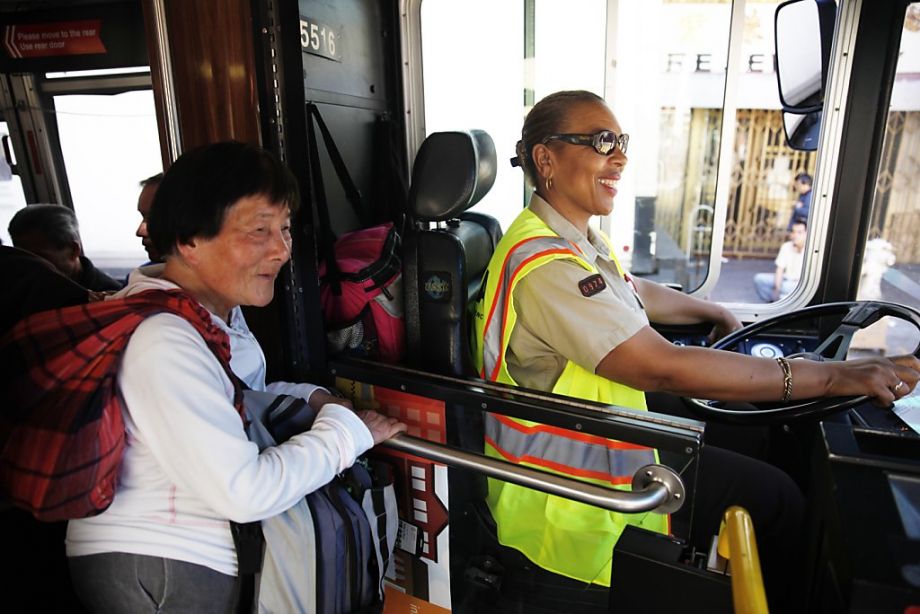 To listen to today's reflection as a podcast, click here

Linda Wilson-Allen drives a metro-transit bus in San Francisco.

But she is no ordinary bus driver.

A few years ago, just before Thanksgiving, she saw a woman named Tanya standing in a bus shelter. Linda knows the people along her route so well that she instantly recognized Tanya as a newcomer to the area. The bus driver said to Tanya, "You're out here all by yourself. You don't know anybody. Come on over for Thanksgiving and kick it with me and the kids."

Today they are friends and regularly spend time in each other's homes.

Sam Whiting, a feature writer for the San Francisco Chronicle, rides Linda's #45 bus to work every day. It wasn't long before he noticed that she has created a kind of community of blessing amongst her riders.

She knows their names. She remembers the details of their lives.

If they're late getting to the bus stop, she'll wait until they arrive and make up the time elsewhere on her route.

In a September 2013 article that appeared on the front page of the Chronicle, Whiting reported that Linda once saw an 80-something woman named Ivy struggling to carry some heavy grocery bags. She hopped out of her seat and helped Ivy come aboard.

Now Ivy watches other busses go past her stop. She waits until #45 comes by, so she can ride with Linda.

Other passengers offer Wilson-Allen time at their vacation homes. They honor her with bouquets and potted plants. When some of the "regulars" learned that she loves scarves, they showered her with dozens of them.

What's going on here?

How is it possible that someone who is "stuck" doing one of the world's most thankless jobs is able to inspire such a reciprocal experience of joy?

Whiting writes: "Her mood is set at 2:30 am when she gets down on her knees to pray for 30 minutes." "There is a lot to talk about with the Lord," says Wilson-Allen.

At the end of the line, Linda says the same thing every day: "That's all. I love you. Take care."

When was the last time a public transportation worker told you she loved you?

Wilson-Allen, a mother of six, says: "God will show you things… He'll teach you the one who's in the back who might not have all their fare, and he'll say, 'Maybe they just pay what they can.' He'll teach you these things. He just shows you."

She describes her work as "ministering to God's people."

Not in a sanctuary. But on a street.

The apostle Paul, when trying to express the gist of the Jesus-following life to a ragtag group of new believers in the city of Corinth, wrote this: "So whether you eat or drink or whatever you do, do it all for the glory of God" (I Corinthians 10:31).

Whatever you do, Paul says. Whether that means washing a stack of dishes, sweeping a floor, conducting a meeting, answering the complaint line at a Call Center, driving Uber customers, entering reams of financial data, trying to get a couple of preschoolers dressed and ready to face a new day, or driving a city bus, do it all for the glory of God.

Whatever work lies before us today can actually become ministry to other people.

We can create "communities of blessing" for those who are treasured by the God who loves them – just as he loves us.