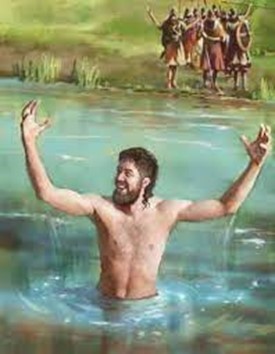 To listen to this reflection as a podcast, click here.

Four Words

The Bible is a bit like a play that introduces, one after another, hundreds of characters over the space of two millennia.

Most characters show up on the stage for just a few moments, speak their lines, then disappear from view. Those may seem like "bit parts," but they are skillfully woven together to create the Bible's basic storyline.

Naaman plays just such a role. He strides into view in II Kings chapter five and vanishes a few dozen verses later. But he leaves behind a story that is still bearing fruit to this day.

We read in verse one, "Now Naaman was commander of the army of the king of Aram. He was a great man in the sight of his master and highly regarded, because through him the Lord had given victory to Aram. He was a valiant soldier."

Now so far this is the kind of bio that anyone would love to post on LinkedIn. But there are four more words to go – four words that change everything. "But he had leprosy."

In the ancient world you can be great, you can be beautiful, and you can be powerful. But if you are a leper, then socially, you are dead.

Naaman's flesh, to one degree or another, is pale and scaly and degenerating. At some point his fingers and his toes and the tip of his nose will fall off. Here is a man who has the power to call out battalions to fight. But nobody wants to be around him. His own family members shrink from touching him. There is agony in those four little words, "but he had leprosy." His whole existence has been sabotaged by the one thing he cannot fix or control.

Suddenly there comes an unexpected opportunity. Verse two: "Now bands from Aram had gone out and had taken captive a young girl from Israel, and she served Naaman's wife. She said to her mistress, 'If only my master would see the prophet who is in Samaria! He would cure him of his leprosy.'" She's referring to the prophet Elisha.

Propelled by a mixture of curiosity and desperate hope, Naaman loads up his servants and his horses and crosses the border into Israel, bringing with him 150 pounds of gold, 750 pounds of silver, and ten suits of clothing – an extraordinary slice of his net worth. Verse nine: "So Naaman went with his horses and chariots and stopped at the door of Elisha's house." Never has anyone been so prepared to buy a miracle. That's what makes verse ten so over-the-top insulting: "Elisha sent a messenger to say to him, 'Go, wash yourself seven times in the Jordan, and your flesh will be restored and you will be cleansed.'"

The Aramean general goes ballistic.

Verse eleven: "But Naaman went away angry and said, 'I thought that he would surely come out to me and stand and call on the name of the Lord his God, wave his hand over the spot and cure me of my leprosy.'" In other words, "Doesn't this prophet know who I am? He wants me to go jump into a muddy creek? I could have stayed home and done that. He at least could have come out and done a little leprosy dance." Thus verse twelve concludes, "He turned and went off in a rage."

What God is saying through Elisha is, "Naaman, I know you're used to being in charge. But if you want to experience My power, you'll have to give up the illusion of being in control and just do what I say – even though it goes against your intuition."

This is where Naaman's servants come to the rescue. "Look," they reason, "you came all this way prepared to do anything you were asked to do. You would have carried out the hardest, bravest, or costliest assignment. Now this prophet asks you to do the simplest thing any of us could ever have imagined. Won't you at least give it a try?"
.
To wash in the Jordan, Naaman will have to remove his armor. He will have to reveal to the world what he would prefer to hide.

Verse 14 tells us that he at last chooses to humble himself: "He went down and dipped himself in the Jordan seven times, as the man of God had told him, and his flesh was restored and became clean like that of a young boy."

During the course of a single day, Naaman loses two things. He loses his leprosy and he loses the delusion that being in control is the best way to go through life.

Those four words that had hung like a cloud over his life have finally been swept away.

What about you? If you were walking onto life's stage and your existence was being summarized in a few sentences, what would be the last four words?

You've been a high achiever in school, in business, and in everything you've attempted – but you hate yourself.
You've acquired a mountain of possessions – but you fear death.
You've always had dreams about the contributions you would make – but time's slipping away.
A secret addiction is draining the joy from your life – but you cannot stop.
You've always wanted to give your heart to God – but surrender terrifies you.

As Naaman learned, it's not too late to go a different way. But something in us will have to change.

We cannot bargain with God. Nor can we buy him off.

But we can humble ourselves and let God be God.

Only then will we discover that life at its best begins when we no longer have to be in control.