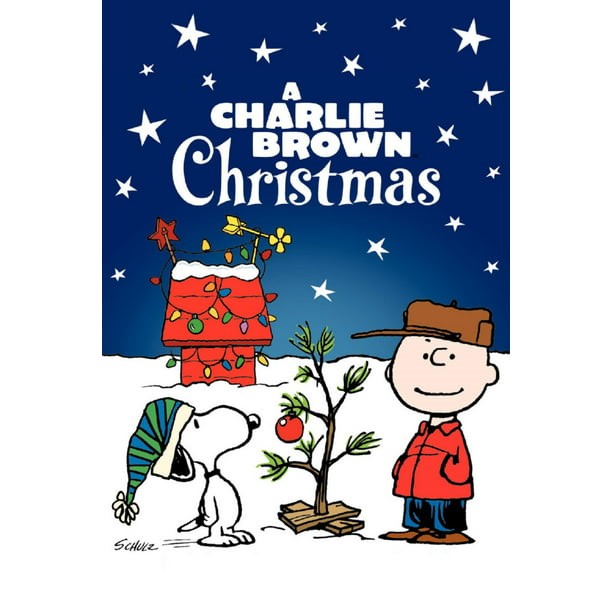 To listen to today's reflection as a podcast, click here.
 
Throughout the season of Advent – which this year encompasses the four weeks leading up to December 25 – we're looking at classic Christmas movies and how they might connect us to the miracle of God choosing to become a human being.
 
Before December 1965, no one had ever seen anything quite like A Charlie Brown Christmas.
 
It wasn't really a movie.  The execs at CBS advertised it as a "TV special" – a 30-minute animated story that featured the familiar characters populating Charles M. Schulz's Peanuts comic strip. 
 
It wasn't flashy.  In fact, it appeared to be crudely drawn.  For the first time ever, children (instead of adults) would provide the characters' voices.  Instead of a laugh track, there would be music.  And not the kind of music "regular" people listened to.  It would be jazz, of all things – funky renditions of traditional Christmas songs, along with original compositions by the Vince Guaraldi Trio.  
 
The animation team finished the project just 10 days before the scheduled December 9 debut.  They feared they had a disaster on their hands.  After director Bill Melendez watched a preview for the first time, he sighed in despair, "My golly, we've killed it."  Everyone agreed that if CBS hadn't already advertised the show, it might have been canceled on the spot.  One of the animators, however, was more hopeful.  Ed Leavitt predicted, "This show is going to run for a hundred years."
 
Leavitt was on to something.  A Charlie Brown Christmas was a hit with critics and audiences alike.  It has so far been broadcast 57 consecutive Decembers.  Now the property of Apple TV+, you can still watch it for free – without subscribing to Apple's streaming service – any time this year between December 22 and Christmas Day. 
 
As the show opens, chronically depressed Charlie Brown is struggling to feel joy at the approach of the holidays.  Lucy prompts him to put together a Christmas play.  Per usual, however, everything seems to go wrong.  The other kids make fun of him.  Even Snoopy laughs derisively, especially when Charlie decides to decorate the stage with the world's scrawniest Christmas tree.   
 
Overwhelmed by the cynicism and commercialism he sees wherever he looks, an exasperated Charlie Brown asks if anyone knows the real meaning of Christmas.
 
Here is where the show really shines.
 
In the mid-60's, religion was a subject no prime time network TV program dared to touch.  Schulz, however, wanted Charlie's friend Linus to recite a passage from the Bible.  Melendez and producer Lee Mendelson tried to talk him into rewriting the scene.  Did Americans really want to hear Scripture from cartoon characters?  Schulz stood fast.  "If we don't do it, who will?"


Schulz' counter-cultural intuitions proved to be spot-on. 
  
Linus steps forward, walks to center stage, asks for lights, and recites from memory the King James Version of Luke 2:8-14, the encounter of the angels with the shepherds just outside Bethlehem.
 
Then Schulz springs one more surprise.  It's easy to overlook.  At the very moment that Linus quotes the angel saying, "Fear not," he lets go of his security blanket.  As any fan of Peanuts can tell you, this is just about the bravest thing Linus has ever done.  Check out the scene for yourself:  What Christmas is All About – A Charlie Brown Christmas (1965) – YouTube
 
So what's your security blanket?  What are you holding on to at all costs, that something you keep hoping is going to make your life safe and meaningful?
 
You know what it is.
 
Maybe it's your savings account.  Or your reputation.  Or your kids' accomplishments.  Or the fact that everyone remembered you at your high school reunion.  Or your dream that life simply has to turn out a certain way.  We don't release such things easily.  There's a reason "don't be afraid" is the most frequent command in the Bible.
 
Choose to be brave this Christmas.  Choose to believe the angels.
 
Don't be afraid.  Drop your security blanket.  Trust God instead. 

That's what Christmas is all about, Charlie Brown.