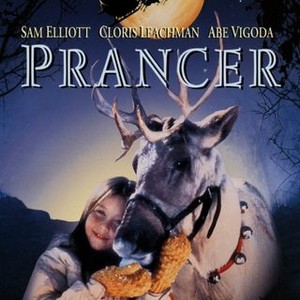 To listen to this reflection as a podcast, click here.

Throughout the season of Advent – which this year encompasses the four weeks leading up to December 25 – we're looking at classic Christmas movies and how they might connect us to the miracle of God choosing to become a human being.

Prancer

It's easy to differentiate between adults and children as Christmas approaches.

The children are the ones whose hearts are still open to the possibility of mystery.

The adults are the ones whose hearts are more likely overwhelmed by weariness: Is everything going to be ready on time? Am I finding the right presents this year? Will the grocery still be open for emergency runs at 3:00 am on December 25?

Prancer, which arrived in theaters in 1989, is an unusual Christmas-themed movie about holding on to innocence in a jaded world. It centers on the relationship between an eight-year-old Michigan farm girl named Jessica Riggs (played by Rebecca Harrell) and her gruff father (Sam Elliott). Jessie has recently lost her mother. Her dad loves her deeply. But, crushed as he is by his own experience of grief, he doesn't know how to express it.

Coming home from school, Jessie is surprised to encounter an injured reindeer. She concludes it must be Prancer, one of the reindeer in Santa's team. She hides it in the backyard shed, hoping to nurse it back to health in time to fly on December 24. Her dad, upon discovering the wounded creature, at first grabs his shotgun so he can put it out of its misery.

Nothing can persuade Jessie that she is helping an ordinary reindeer. She is buoyed by a sense of wonder. But she's surrounded by others who seem bent on eradicating it.

She talks with a friend, who says she can't believe in anything she cannot see.

"But what about God?" says Jessie. "You can't see him, either. Does that mean you don't believe in him?" Her friend admits her skepticism. Jessie replies, "But if there's no God, there's no heaven. And if there's no heaven, then what about my mother?"

Without the meaning and assurance that spring from trust in God, life can be hard to endure. And it will be increasingly harder to sustain an authentic sense of wonder as we grow older.

Years ago I read the account of an author who told the same story to his three children: Sarah (7), Naomi (4), and Nathan (age one).

He went into Sarah's room and said, "Little Tommy got up, walked to the door, and then opened it. Suddenly, a dragon jumped out in front of Tommy!" Sarah remained transfixed until her 7-year-old mind was reassured that Tommy whipped the dragon.

Next he narrated the same story to Naomi: "Little Tommy got up, walked to the door, and…then…he…opened it!" Naomi's eyes widened as she tingled with the anticipation of what might be waiting behind that door.

Finally, he told the same story to little Nathan, a child whose entire worldview could pivot on the word "cookie." He said, "Little Tommy got up…and walked…to the door!" With every word Nathan's eyes brimmed with excitement.

The author pointed out that Sarah needed the dragon to evoke a sense of wonder. Naomi was moved by the mere gesture of opening a door. Nathan thought it was a big deal that somebody actually walked. He concludes, "The older you get, the more it takes to fill your heart with wonder. And only God is big enough to do that."

Is your heart spiritually alive this week? Or does it seem that all the colors of the world have turned to gray?

Where once something used to leap up inside you, would a heart monitor now show that your sense of curiosity and hope have flat-lined?

Maybe belief in God is like belief in Santa. It "works" only until it's time to grow out of it. Wonder is for suckers. Maturity means moving on and accepting the fact that life really doesn't have a point.

Or maybe belief in God makes sense precisely because God has hard-wired spiritual yearning into each of us – the kind of wonder that still animates Jessie, and prompts her to take risks that would probably never even occur to others.

So, is the reindeer under Jessie's care the real Prancer? At the risk of spoiling your own sense of wonder, here's your chance to see how the movie ends: Prancer – Ending (Rebecca Harrell) – YouTube

Jesus alone can jumpstart our real-life experience of wonder and mystery. Only he is big enough to help a grown-up who has seen it all and done it all realize that the universe is still very much filled with the wonders of his love.

And how in the world might that happen to you this Christmas?

Just ask him.