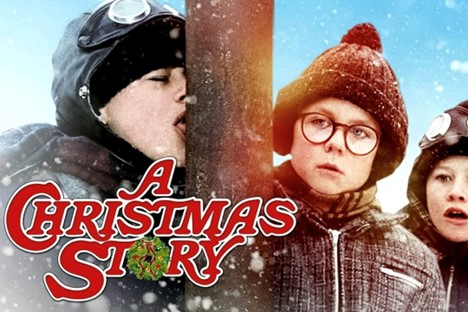 To listen to this reflection as a podcast, click here.

Throughout the season of Advent – which this year encompasses the four weeks leading up to December 25 – we're looking at classic Christmas movies and how they might connect us to the miracle of God choosing to become a human being.

When A Christmas Story opened in theaters at Thanksgiving in 1983, critic Roger Ebert made this prediction: "Either nobody will go see it, or millions of people will go see it."

Was he right? Yes and yes. The film did only modestly well at the box office. Ironically, it was out of theaters before Christmas Day.

But cable TV has saved many a Christmas movie from the dustbin of history. Thanks to their 24-hour marathons on December 24-25 each year, the Turner network stations TBS and TNT have helped transform A Christmas Story into must-see holiday viewing for millions of families.

The movie is a patchwork quilt of memories from the childhood of the late Hoosier humorist Jean Shepherd. As the voiceover of the grown-up Ralphie, he looks back on a series of events leading up to Christmas from a nine-year-old kid's perspective in 1940 Indiana. He makes a cameo appearance, by the way, as the man who accosts Ralphie for trying to cut in line to see the department store Santa.

Shepherd's humor is like the sweet and sour sauce at the Chinese restaurant in the film's final scene. He can pour on both heartwarming nostalgia and biting satire. The film swings from scenes that make us think, "Wow, that was a great time to be alive," to vignettes that remind us how good it is to live in a day in which adorning a Christmas tree with electric lights doesn't risk setting the house on fire.

There are myriad memorable screen moments.

There's Ralphie's friend Flick yielding to a "triple-dog-dare" by putting his tongue on the freezing flagpole; the neighbor's dogs running off with the Christmas turkey; Ralphie and his brother trembling before Scut Farkus, the local bully, only to discover he's a coward; and Ralphie's dad, played by Darren McGavin, thrilled beyond measure to receive the gift of a hideous leg lamp, then displaying it in the front window of the house for everyone to see.

The role of the father (or "the old man," as Ralphie calls him) was originally offered to Jack Nicholson. We can only imagine the dialogue that would have resulted:

Ralphie: Tell me about Santa Claus.
Old Man: You want answers?
Ralphie: I want the truth!
Old Man: You can't handle the truth!

Ralphie, like a lot of sons of Greatest Generation dads, doesn't enjoy a particularly close relationship with his father. But they share a wonderful moment after all the presents have been opened on Christmas Day. Ralphie has spent the entire movie fantasizing about just one gift: a Red Ryder 200-shot range model air rifle. Everyone tells him, "You'll shoot your eye out, kid." He feels deflated when he realizes there's no BB gun waiting for him underneath the tree.

But his old man, with surprising warmth, directs him to a final package, hidden just out of sight. It's the Red Ryder of his dreams. His father had listened to him and understood his feelings after all. Who would have guessed?

I will never forget the year that our family sat down to Christmas dinner. My father, quite out of character, suggested that maybe there was one more gift that hadn't been opened. It was protruding out of his shirt pocket. Tickets to the Indianapolis "500." My very first race. Dad wanted that moment to be special. It remains one of the happiest memories I have of relating to a man who was notoriously hard to love and understand.

When it comes to opening presents in A Christmas Story, the low moment comes when Ralphie opens the box from his Aunt Clara.

It's a pink bunny suit. His mother insists that he try it on. Ralphie is mortified. Little brother Randy bursts into laughter. "It's a pink nightmare," his father says, once again mercifully taking Ralphie's side. Here's the classic scene: A Christmas Story: Bunny Pajamas (Clip) | TBS – YouTube

Most of us, as kids, were on the receiving end of memorable gifts from older family members.

Sometimes they scored direct hits. "Thanks, Grandma, this is great!" But more often than not the gifts from our grandparents and the aunts and uncles who didn't really know us weren't with it. As my own grandparents got older, their gifts became increasingly odd. My brothers and I often rolled our eyes as we gazed upon gadgets that were technologically behind the curve and clothes that were culturally tone-deaf.

A generation later, my own kids sometimes rolled their eyes when they opened "grandparent gifts." It was always an adventure to see what my mom and dad, in their later years, chose to gift-wrap. My parents used to be so with it. Then they became…just like their own parents.

And I'm next.

Mary Sue and I adore our nine grandchildren. Even though we can't imagine this ever happening to us, the day will surely come that our grandchildren will roll their eyes at our sincere but goofy attempts to express our affection for them.

For a number of reasons I'd love to relive my childhood Christmases. Mostly I'd love to go back and not roll my eyes.

These days I realize, more than ever, that my grandparents were trying so hard. I wish I could go back to offer them gratitude, humility, and tenderness beyond my years.

And as I inevitably lose my sense of being with it – if indeed I ever had it – I hope that the one thing I can always offer to the generations that follow is the gift of grace.

And that I can triple-dog-dare myself to do so even when it's not Christmas.