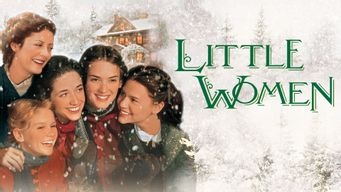 To listen to this reflection as a podcast, click here.
 
Throughout the season of Advent – which this year encompasses the four weeks leading up to December 25 – we're looking at classic Christmas movies and how they might connect us to the miracle of God choosing to become a human being.

Louisa May Alcott's most famous novel, Little Women, creates the impression that it describes a real family.
 
In a sense, that's true.  Alcott modeled the members of the March family around her own family of origin.
 
The book spotlights four sisters who are distinctly different in temperament and motivation.  They, along with their strong-willed mother Marmee, are struggling to grow up and stay together as a family in Massachusetts during the Civil War.  Their father is far from home, serving as a chaplain for the Union army. 
 
Meg is the "good girl," Beth is sweet and shy, and Amy is the incurable romantic.  Alcott presents herself as Jo, the headstrong aspiring writer.  She is without question the book's "star."    
 
Even though Little Women is the book that made Alcott famous, it was never her favorite.  She admitted later that her publisher had pressured her to come up with a "girls' story."  Since its publication in 1868, however, it has never been out of print, and Hollywood has brought five different versions of it to the screen (in 1918, 1933, 1949, and 2019).  The most celebrated adaptation was directed by Gillian Armstrong in 1994, which is where we'll focus our attention. 
 
Although Little Women is not a Christmas story per se, Anderson chose to emphasize the holiday scenes in Alcott's original.  Christmas represents the time when the March sisters feel closest together. 
 
The blockbuster cast – featuring Winona Ryder as Jo, Claire Danes as Beth, Kirsten Dunst as Amy, Susan Sarandon as Marmee, and Gabriel Byrne and Christian Bale as two of the male love interests – display what a real family is like.  That means tenderness.  Anger.  Reconciliation.  Vindictiveness.  At one point Amy impulsively burns one of Jo's manuscripts.  Predictably, Jo goes Mt. St. Helens.  Instead of devolving into a sentimental "chick flick," Little Women is a series of snapshots of the ups and downs of real people trying to do life together.

Above all, there is love.  As Beth loses her battle with scarlet fever, she tells Jo not that she will never see her again, but rather, "I shall be homesick for you."  Here's that amazing moment:  Little Women (1994) – I Shall Be Homesick for You Scene (8/10) | Movieclips – YouTube.   
 
What's the key to doing life together successfully? 
 
Relationship expert Dr. John Gottman believes that "repair attempts" are crucial.  He defines a repair attempt as "any statement or action – silly or otherwise – that prevents negativity from escalating out of control."  Happy couples and unhappy couples are not different in the number of mistakes they make.  Or the number of arguments they have.  All couples (and virtually all family members) experience emotional meltdowns from time to time.  Those can feel especially painful at Christmas.  But what happens next makes all the difference.
 
People who intentionally try to lower the flame in a difficult moment – perhaps with a self-deprecating remark ("there I go again") or a sincere apology or maybe just a goofy smile – are making a special kind of investment.  They're declaring, "This may be a difficult moment, but I believe we're not done.  I want to help build a more positive future for our relationship." 
 
That doesn't happen by accident.  It requires work. 
 
Just after World War II, the Betty Crocker name was on at least 50 General Mills products.  Many Americans believed Betty Crocker was a real person.  She finished second to Eleanor Roosevelt in a survey of the most popular women in America.  An actress supplied her "voice" on her own radio show, and her loyal followers could even visit her "kitchen" at General Mills headquarters. 
 
But Betty Crocker was nothing but a marketing label for a cluster of bakery products.   
 
Interestingly, Ms. Crocker's cake mixes didn't sell very well when they were first introduced.  All you had to do was add water.  That didn't seem like cooking at all.  American housewives shrugged.
 
Then, as Laura Shapiro details in her book Something From the Oven, General Mills began to leave out some of the ingredients.  The new recipe required the addition of two eggs.  Suddenly the cake mixes were flying off the shelves.
 
Today it's called the Egg Theory.  As long as I can add something – even a very humble something – the results somehow become mine.
 
What's the difference between buying a fully assembled bookshelf and a bookshelf kit from IKEA?  Putting together the IKEA components – watching as the bookshelf takes shape through my very own efforts – leads me to some pride of ownership.  If we cut up a tomato and add it to the Caesar salad package, or slice a few mushrooms into what is otherwise a mere bottle of factory-made spaghetti sauce, we feel a strange attachment to what "we" have made.
 
General Mills ads proclaimed, "Who makes the best yellow cakes?  YOU!"  You do the really hard part of cracking a couple of eggs.  As the timeless slogan put it, "You and Betty Crocker can bake someone happy."  Any one of us can become a culinary champion.  All we need is a spoonful of ownership. 
 
That's oh-so-true when it comes to relationships.
 
We cannot be spectators in our own families.  We cannot stand by and wait to see what happens next.  When we make special efforts to add something positive to our own relational mix, things change from "something other people are doing" to "something we are doing together."
 
The unique ingredient you bring to the recipe is yourself: your words of encouragement, your assurances of love, your commitment to excel at repair attempts this Christmas.   
 
Yes, an all-powerful God can transform the world and heal your family's hurts and problems all by himself.
 
But if we're willing to get into the kitchen and break some eggs, we'll discover that God has something greater in mind than just smoothing out a few family rough spots.
 
As part of the process, he actually intends to transform us.