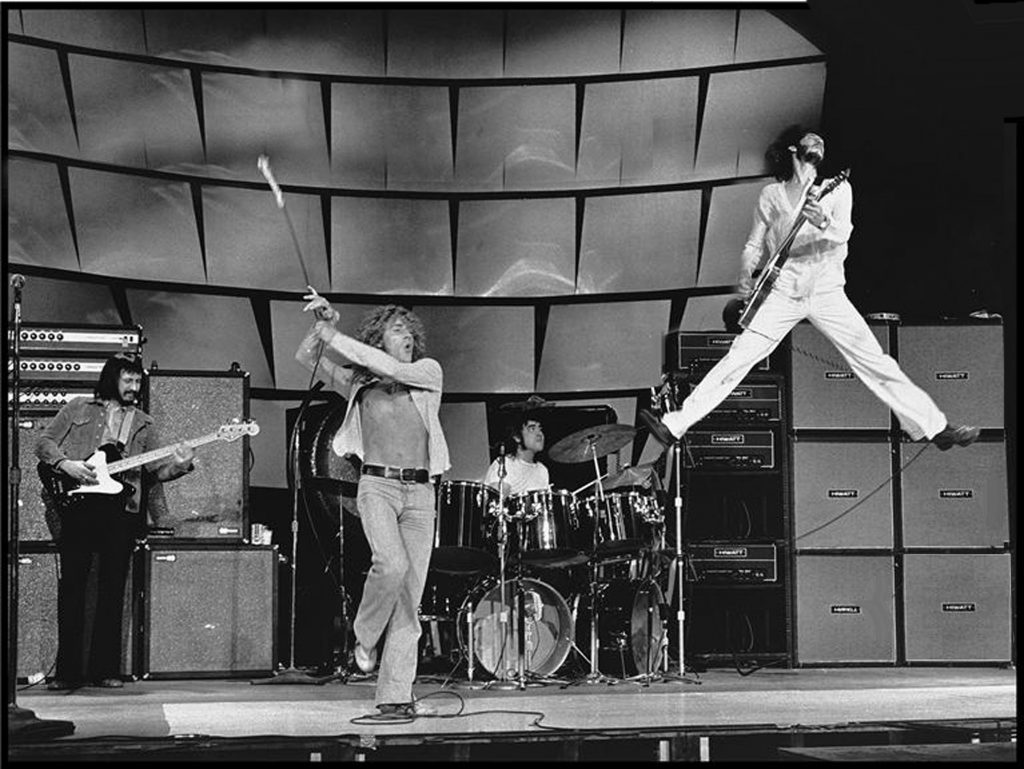 To listen to this reflection as a podcast, click here.
 
The first live rock concert I attended was September 1, 1967, at the Indiana State Fairgrounds Coliseum.
 
The British invasion (spearheaded by the Beatles and the Rolling Stones) was still at full tide, and the crowd that day was excited about the headliners. 
 
They were a group of five long-haired, nattily dressed, enthusiastic young men from Manchester named Herman's Hermits.  Their dashing lead singer, Peter Noone, had assembled the group three years earlier.  Since then they had topped the charts on both sides of the Atlantic with songs like "Mrs. Brown, You've Got a Lovely Daughter," and "I'm Henry VIII, I Am." 
 
There was a warm-up group, of course.  Tours normally trot out some lucky musicians on their way up – or perhaps an unlucky group on its way down – to entertain the crowd before the Real Show. 
 
The warm-up group that day was also British.  Its four members were casually dressed.  The lead singer did a lot of screaming.  The lead guitarist did a lot of jumping.  When their set was finished, they threw down their instruments.  The drummer tossed his sticks into the third row. 
 
The crowd's response was meh.  Polite applause.  Get these guys off the stage.  We want Herman. 
 
By now, readers who are fans of classic rock will recognize who was warming up the crowd.  It was The Who, the musical supergroup that would go on to sell more than 100 million records and significantly influence virtually every aspect of rock, both musically and technologically. 
 
And Herman's Hermits?  Peter Noone quit the band more than 50 years ago.  The group is still touring and has had 19 different members along the way.  The Hermits are essentially a musical afterthought.
 
My chief memory of that day is that I got to see The Who.  But I had no idea who they were. 
 
In that sense, I didn't see them at all. 
 
Every day we're faced with the temptation of minimizing those around us, as if one glance is all we need to assess someone else's value.
 
But our perceptions fail us.
 
Do we really have eyes to see the shy woman who cleans our school or workplace corridors after we go home; the bored teenager permanently glued to the flat screen of his video game; the quiet neighbor seemingly weighed down by worries he has never shared with anyone; and countless others who will cross our paths during the next 24 hours, virtually unnoticed? 
 
It's astonishing, on the pages of Scripture, how often God's champions emerge from the ranks of the unrecruited and also-rans.  There's Abraham, who was too old.  Moses, who was too afraid.  Gideon, who was too insecure.  Mary Magdalene, who was too broken.  James and John, who were too angry.  Peter, who was too unsteady.  Thomas, who was too skeptical.
 
But as Jesus assures us, "The last shall be first, and the first last" (Matthew 20:16).  The headliners will be forgotten and the warm-up band will be stars. 
 
So, stop today.
 
Ask God to open your eyes.  Listen carefully.  Be amazed.
 
Everyone you meet, no matter what disguise they happen to be wearing, may very well be someone God is specially shaping to help grow his kingdom.    
 
We don't always know who or what we're seeing.
 
But the God who is charting the course of history every new day can see for miles and miles.