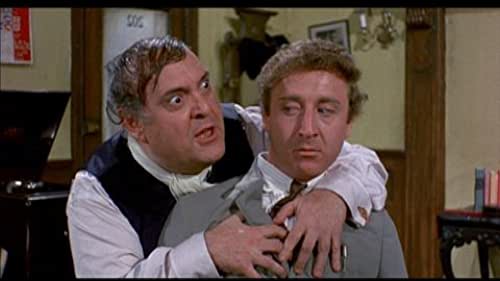 Some subjects are just too painful, too controversial, or too recent to make people laugh.

Surely Adolph Hitler is near the top of that list.

But that didn't stop actor and director Mel Brooks from satirizing Nazi Germany just 22 years after the collapse of the Third Reich at the end of World War II.

In his 1967 movie The Producers, an egotistical theater producer named Max and his nerdy accountant Leo scheme to make money by staging the worst possible musical anyone can imagine. First they will massively oversell shares in the production. Then they will stage a flop so horrific that it will close after opening night – leaving them with a pile of unspent cash and the chance to flee to a new life in a warmer climate.

What musical might be so dreadful and so scandalous that it could never see a second night?

They find the loser of all losers – a musical about Germany's late Fuhrer, written by and starring a demented neo-Nazi. Max is certain that the theme and the script will "offend people of all races, creeds, and religions." At the heart of the show is a musical number called Springtime for Hitler:

Germany was having trouble, what a sad, sad story
Needed a new leader to restore its former glory
Where, oh, where was he? Where could that man be?
We looked around and then we found the man for you and me
And now it's…

Springtime for Hitler and Germany
Deutschland is happy and gay
We're marching to a faster pace
Look out, here comes the master race

As Leo and Max hope, the show is perfect – that is, perfectly awful.

But their plan goes off the rails. Opening night turns out to be a success because the audience assumes it's all a satire. Max is crushed: "I was so careful… I picked the wrong play, the wrong director, the wrong cast… Where did I go right?"

Thirty-four years later, Brooks transformed his movie into a Broadway musical. Unlike his fictional characters, Brooks hit a home run. The Producers went on to win 11 Tonys, a number still unsurpassed on the Great White Way.

In his recent autobiography, All About Me! (a title that only Mel Brooks could get away with), he recounts an incident from March 2001 when the musical was still being refined and success was anything but guaranteed. Over the course of a week, The Producers was staged for multiple audiences of ordinary folks who might provide valuable feedback to Brooks and his team. Things did not always go swimmingly.

During Springtime for Hitler, a member of one of the test audiences couldn't restrain himself. He charged the stage. "Where is Mel Brooks?" he yelled. "This is an outrage! You're celebrating Adolph Hitler!"

Brooks jumped up and met him at the end of the aisle. "I'm Mel Brooks," he said. "What's your problem?" The man shrieked, "This show is a disgrace. How could you speak about Hitler? I was a soldier. I fought in World War II."

Unfazed, Brooks replied, "I also fought in World War II. I don't remember seeing you there." He then tells his readers, "That kind of took the wind out of his sails." The man calmed down and returned to his seat.

In many regards, Mel Brooks is the only man who could have lampooned Adolph Hitler within a few decades of his reign of terror. Born Melvin Kaminsky, he is from a Russian-American Jewish family. He did indeed battle Nazi Germany as a member of the U.S. Army. Now 95 years old, he is the unrivalled master of farce and parody, including westerns (Blazing Saddles), horror (YoungFrankenstein), classic Hollywood (Silent Movie), Hitchcockian suspense (High Anxiety), and science fiction (Spaceballs).

But Adolph Hitler? Is it really possible to satirize one of the most humorless human beings of all time?

Brooks declares, "If you can bring these people down with comedy, they stand no chance."

That brilliant sentiment echoes what many of Christianity's leading thinkers have said over the centuries regarding someone infinitely worse than Hitler – Satan himself. Martin Luther said, "The best way to drive out the devil, if he will not yield to texts of Scripture, is to jeer and flout him, for he cannot bear scorn." St. Thomas More added, "The devil…that proud spirit…cannot endure to be mocked."

Have you ever wondered why Satan is comically depicted as wearing a red suit and holding a pitchfork? Scripture is silent on his appearance. But medieval artists dealt with the devil by making fun of him.

Author Dwight Longenecker points out that this approach is consistent with C.S. Lewis' Screwtape Letters, a set of fictional correspondences between a senior demon and a junior tempter: "To laugh at Lucifer does not mean that we disregard him or underestimate his power. What it does mean is that we engage in the battle with a sense of humor, and a sense of proportion…. Jeering and flouting him means that we are happy warriors. We are launching out on the spiritual battle with a spring in our step and a smile on our face."

That spring in our step and smile on our face comes from the assurance that Satan is a defeated enemy. "Resist the devil and he will flee from you," says James 4:7. We laugh at the devil because we know he cannot hurt us.

Longenecker remembers an older nun who shared with him that her confessor had fallen asleep while she was making her confession. "Oh dear," she said, smiling ruefully, "it seems that not even my sins are very interesting!" Then she laughed.

Such wonderful humility – the fact that we need never take ourselves too seriously – is a poke in the eye of "that proud Spirit" who cannot endure to be mocked.

The world is filled with pain. It may seem impossible to sustain a happy heart in light of its many horrors.

But we know how this story is going to end. We are "more than conquerors," Paul says, "through him who loved us" (Romans 8:37).

Which means that if life is a musical, every one of us is being given a chance to sing for joy.