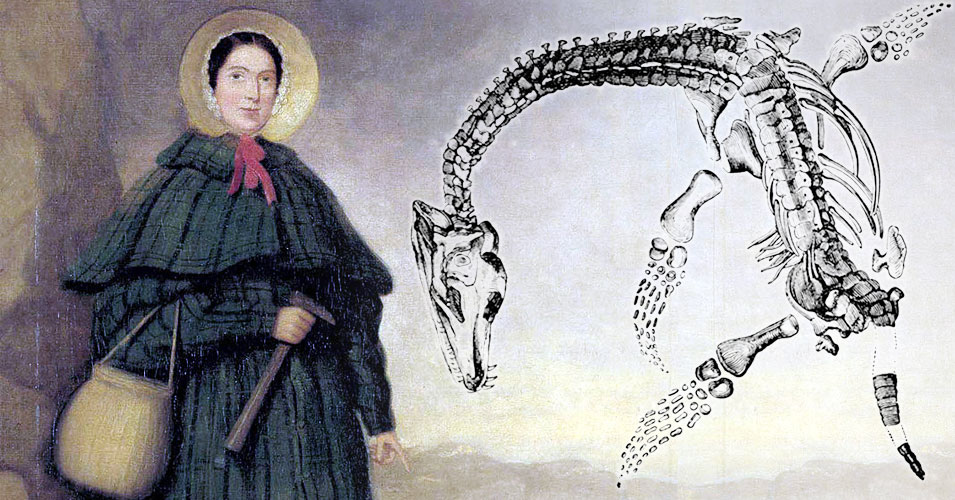 During the Golden Age of fossil hunting in the 19th century, almost all of the discoveries in the field were made by amateurs. Most of them were well-educated, upper-class males.

But the greatest amateur fossil hunter of all time was quite possibly an impoverished young woman who had no formal training or education.

Mary Anning (1799-1847) spent her whole life in Lyme Regis, England, a seaside town perched on the edge of rugged cliffs. Those cliffs are part of the Jurassic Coast, a 95-mile stretch of chalk, shale, and red sandstone on Britain's southwest coast that just happens to be one of the world's richest fossil beds.

Her father, a poor cabinetmaker, taught Mary and her brother Joseph how to clamber up and down the cliffs – avoiding periodic rockfalls and dangerous, unpredictable waves – in order to find the stony imprints of unusual creatures that no one at the time knew quite how to explain.

When their father died, the children were suddenly thrust into the task of helping put food on the table. They set up a booth in their small town and sold some of their fossil curiosities to tourists.

From the beginning, Mary demonstrated a knack for uncovering spectacular finds. She was just 12 years old when Joseph noticed a skull protruding from an eroding cliff face. Mary worked for months, chipping away the surrounding stone, ultimately revealing a 17-foot marine creature that was unlike anything anyone had ever seen. It became known as Ichthyosaurus. Before she turned 30, she discovered the world's first Plesiosaurus, another enormous marine predator (its skeleton is pictured above), and Britain's first Pterodactyl, a prehistoric flying reptile.

She hunted for fossils wearing an old dress, a plaid coat, and a heavy wool cape (the shoreline often being chilly). She carried a geologist's hammer and a wicker basket, accompanied only by her small dog Tray. Anning never married.

"The princess of paleontology," someone called her. But the unofficial boys club of highly competitive fossil-hunters refused to take her seriously.

Gideon Mantell, a highly regarded physician and amateur rockhound, reported that he visited her "dirty little shop" in 1832, concluding that she was a "prim, pedantic, vinegar-looking, thin female." An American scientist who came for a visit described her as "a very clever, funny creature."

Mary sold her best fossils so she could eat. Others resold them to museums and consequently (and unfairly) received credit for their discovery. A famous French scientist, astonished at the strange creatures she was bringing to light, accused her of fraud. "The world has used me so unkindly," she wrote to a friend.

By the time Mary died of cancer at age 47, she had largely been shunned by the scientific community.

It's hard to put into words the pain of being overlooked, ignored, or dismissed – especially by those who know better, and ought to be our strongest defenders.

The book of Genesis devotes a dozen chapters to the saga of Joseph, one of the 12 sons of Jacob. His brothers, envious of his status as the apple of their father's eye, sold him into slavery in Egypt. At first Joseph's fortunes went up. Then they plunged. Once again they rose, only to crash to new depths as he languished – forgotten and alone – serving a prison sentence he did not deserve.

Through it all, the reader learns one essential thing about this young man: "The Lord was with Joseph." The phrase recurs multiple times in Genesis 37:36 and 39:1-6.

In the end, God arranges the unique circumstances which spring Joseph from prison and allow him to be used to save his own family (and countless others) from ruin.

The Lord was with Joseph. There's no evidence he even knew that until he began to look back on the up-and-down course of his life (Genesis 50:20).

And the Lord is with you. You may feel diminished, unappreciated and overlooked. It may seem as if your best efforts have gone unnoticed. But everything is known to God, and he is the author of a story that doesn't end in this world but continues into the next.

The irony is that almost no one remembers the names of those amateur fossil hunters who fought, tooth and nail, to carve out reputations for themselves. But contemporary scientists, biographers, and a full-length feature film are finally giving Mary Anning her due.

Today her name and her story appear where they belong – alongside the spectacular fossils she discovered that are on display in the British Museum of Natural History.

She's also the only paleontologist associated with a tongue-twister: She sells seashells by the seashore.

A number of historians believe that Mary is the "she" immortalized by those words – which just two days ago were featured in a Super Bowl commercial. It's a bit of poetic justice that we every time we recite the words of that familiar poem, we're remembering a special but underappreciated woman.

Better still, we serve a God who will never fail to appreciate us.

The Lord is with you – and that means now and forever.