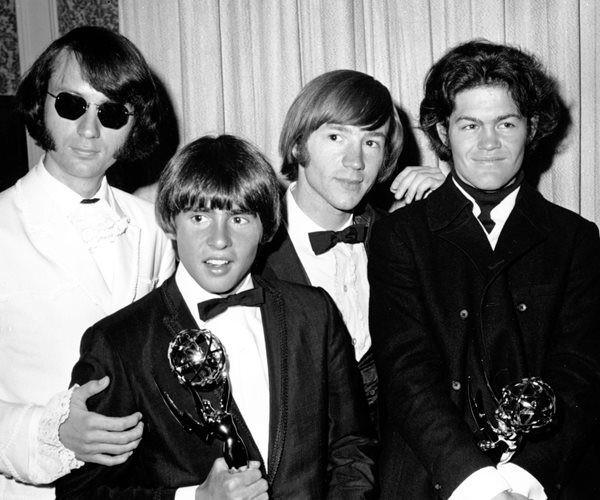 To listen to this reflection as a podcast, click here.

In 1965, guitarist Stephen Stills noticed an ad in Variety magazine. A casting company for a new music-oriented TV show was seeking "four insane boys, ages 17-21."

Stills decided to audition. His music skills were excellent, but his misshapen teeth and ratty hair were not what the producers were looking for. He returned home and said to his roommate, "You ought to try out." The rest is history.

Twenty-three-year-old Peter Halsten Thorkelsen, who had recently changed his name to Peter Tork, joined the cast of The Monkees – a TV show about a rock band that vaguely resembled The Beatles.

From left to right in the picture above, guitarist Michael Nesmith was the group's semi-serious leader. Davy Jones sang, played the tambourine, and looked exceedingly cute. Tork handled the bass and keyboard and delivered never-ending adolescent wisecracks. Micky Dolenz lived out the role of the zany drummer.

The show succeeded beyond NBC's wildest expectations, becoming one of television's highest-rated programs and winning an Emmy for outstanding comedy. In 1967, The Monkees earned more money than The Beatles and The Rolling Stones combined. The four insane boys were a hit.

What they weren't, of course, was a real band – something that drove Tork, a genuinely skilled musician, crazy. During each 30-minute show they weren't even allowed to play their own instruments, leading some critics to call them "The Prefab Four."

The world didn't seem to care that The Monkees were manufactured out of thin air, or that the show was canceled after only two seasons (1966-68). The group started touring. Fans quickly realized they could actually play. Several songs went to number one on the Billboard charts, and five albums cracked the Top Ten.

But for Peter Tork, it wasn't enough. He yearned to be part of an authentically great rock group. His three fellow Monkees were content to be remembered as TV clowns and cash their royalty checks. "This is not a band," Tork told reporters. "It's an entertainment option whose function is Monkees music."

So in 1969 he decided to walk away and pursue something he could be proud of. He yearned to be somebody.

His post-Monkees life, unfortunately, did not turn into the adventure he was hoping for.

Unable to secure a recording contract, he sold his house and moved with his pregnant girlfriend into David Crosby's basement. He spent a few years in a mediocre band called Release, did three months in an Oklahoma prison for possession of hashish, and became a singing waiter. By the mid-70s he was teaching music, French, history, social studies and math at a high school, as well as coaching its baseball team. He descended into alcoholism, got sober, divorced three wives, and ultimately succumbed to cancer in 2019 at the age of 77.

At every step of the way, Peter Tork was seeking the same two things that every human being seeks. They both begin with the letter "S:" security and significance.

But wait a moment. Didn't every member of The Monkees have, at one time or another, all the money they could possibly spend along with global stardom that has only mushroomed over the past 50-plus years?

That may be how our culture defines security and significance – the ability to write big checks along with the high probability of being recognized by strangers on the street.

But what human hearts really crave is altogether different. Security is the assurance that someone will always love me, even if I fall flat on my face. Significance is the bedrock conviction that my life has purpose and meaning, even if only a few people know my name.

Our lives are defined by how we seek security and significance.

Perhaps profound happiness will come through outworking our corporate rivals. Or by leaving a legacy of memorable songs, books, or works of art. Perhaps we'll be applauded for our civic contributions, ensuring that our names will be lastingly associated with trust funds or skyscrapers.

The most common strategy, of course, is to marry the perfect partner – the one who will unfailingly make us feel loved and needed. This is what one sociologist calls Apocalyptic Romance. The burden of providing security and significance for one broken person falls entirely onto the shoulders of another broken person.

If you have ever been in love, you have ample empirical evidence that such a mission is doomed from the start.

That's because only God can provide the security and significance we need. God alone can love us unconditionally in our darkest moments. And God alone can assure us that we don't need to try to be somebody. If we have accepted his invitation to be adopted into his forever family, we already are somebody:

We are God's deeply treasured child, whom he will never abandon.

That means we are safe in God's love. And our lives have unassailable meaning in this world and the next.

Freed from the need to provide what only God can supply, lovers and friends and family members can finally do what we were always meant to do – give and receive, as best we can, the grace, love, and mercy that God has already poured into our hearts.

Which, when you think about it, is more than we could possibly imagine or deserve – even if we're just Daydream Believers.