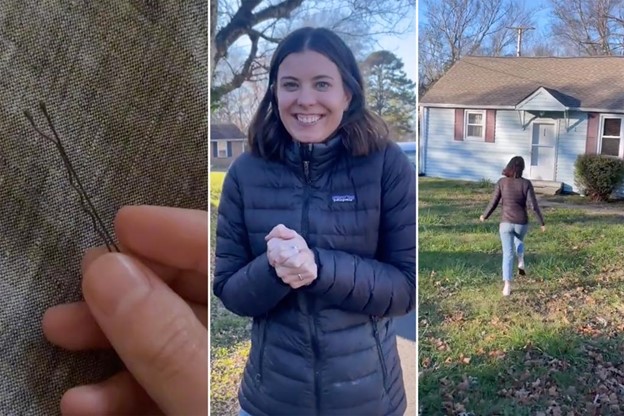 To listen to this reflection as a podcast, click here.
 
What could you get if you started with a bobby pin and kept "trading up" for items of greater value?
 
Demi Skipper, a 28-year-old store manager who was renting a house near San Francisco, dreamed that she and her husband might one day own a home of their own.  In May 2020 she decided to barter a bobby pin on Craigslist.  Could she keep making swaps until someone actually gave her a house?
 
Things began humbly.  The hairpin fetched a pair of cheap pink earrings.  That led to four margarita glasses, then an old vacuum cleaner.
 
Demi traded the vacuum cleaner for a snowboard, then made swaps for some headphones, a laptop, and a camera.  After she launched a TikTok account to document what she called her Trade Me Project, the journey began to get considerably more interesting.  Within a few months she had traded for an iPhone and a vintage 2008 Dodge Caravan, whose owners insisted on driving it to the Skippers' front door all the way from Minnesota.
 
Why hang on to an old Caravan when you can swap it for a dark green Mini Cooper convertible?  Demi made the trade. 
 
Then she suffered a setback.  She traded the car for a diamond and sapphire necklace supposedly worth $27,000.  But multiple appraisals estimated its value to be less than $3,500.
 
Resilient in the face of disappointment, she slowly traded her way back up.  Her swaps included a Peloton exercise bike, two more cars, and three tractors.  She hit pay dirt when someone took the three tractors in exchange for a Chipotle celebrity card – a rare object that entitles its bearer to a year's worth of free food and a party for 50 people catered by the restaurant.
 
It just so happened that one of the world's greatest fans of Chipotle – a Canadian woman who planned to share the food with the needy – was willing to pass along a $56,000 trailer in exchange for the card.  The trailer was equipped with solar panels and a Tesla Powerwall, which is a battery system for storing solar energy. 
 
That piqued the interest of a Tennessee woman who flips properties for a living.  Would the Skippers be willing to trade the trailer for one of the 15 houses in her current inventory?
 
That's how Demi, on the day after Thanksgiving 2021, traveled from California to Clarksville, Tennessee, to accept the keys to a cute fixer-upper – a two-bedroom, one-bath house with a spacious yard and garden.  A bobby pin had been transformed into a house with a market value of $111,000 – and it had come with no mortgage and no fees.
 
Demi had made 28 transactions over a period of 18 months.  Along the way she learned a great deal.  "I think I've gotten much better at seeing the negative and flipping it to a positive," she told an interviewer.
 
Not all of Demi's trades were wise.  But compared to an unfortunate character who appears in the first book of the Bible, she was brilliant.
 
In Genesis 25 we meet Esau, the son of Isaac and Rebekah.  Because he was born just minutes before his twin brother, Jacob, he stood to inherit the two greatest gifts that parents of that age could bestow on their children.  He will receive both the family birthright and his father's blessing.  The birthright means that the oldest son gets twice as much inheritance as any other male heir.  Because Isaac is the father of just two boys, two-thirds of the estate will fall to Esau. 
 
We learn soon enough, unfortunately, that he's not the brightest light in the chandelier.  One day when his stomach is bigger than the part of his brain reserved for strategic planning, Esau staggers into the house.  He's spent the day out in the open country.  Jacob has just whipped up some appetizing lentil stew.   
 
"Quick!" Esau says to his little brother, "let me have some of that red stew.  I'm famished!" 
 
Jacob, whose name means "Grabber" (so-called because he arrived in the world with his hand wrapped around Esau's ankle), now displays what will become a well-earned devious reputation.  "No problem," he says.  "Let's make a deal.  I'll trade you a bowl of this steaming hot red stew for your birthright."
 
Alarm bells should be going off in Esau's head.  This is a terrible trade.  He's about to throw away one-third of the family's net worth, which should be coming to him in the future, for a single meal today.  But he answers, "I'm starving!  What good is a birthright if I'm dead?"  It appears Esau was definitely in the running for high school drama king.  
 
In the raw language of Genesis 25:34, "He ate and drank, and then got up and left.  So Esau despised his birthright."
 
Over the centuries, God's people told and retold this story.  It shows up in the New Testament: "Watch out for the Esau syndrome: trading away God's lifelong gift in order to satisfy a short-term appetite. You well know how Esau later regretted that impulsive act and wanted God's blessing—but by then it was too late, tears or no tears" (Hebrews 12:16-17). 
 
Don't trade tomorrow's blessings for something you think you can't live without today.
 
That's the wise way to go through life – the one that allows us, at the end of all our "trades," to be in possession of a relationship with God that no one can ever take away.
 
Demi Skipper's story doesn't end with the happy day she walked into her new house.  She and her husband have decided to trade it with someone "who really needs it."
 
All she asks for in exchange is a bobby pin, so she can start off on a whole new adventure.
 
By God's grace, may we accept his offer of trading up momentary happiness for the deep and lasting joys of being in his kingdom.