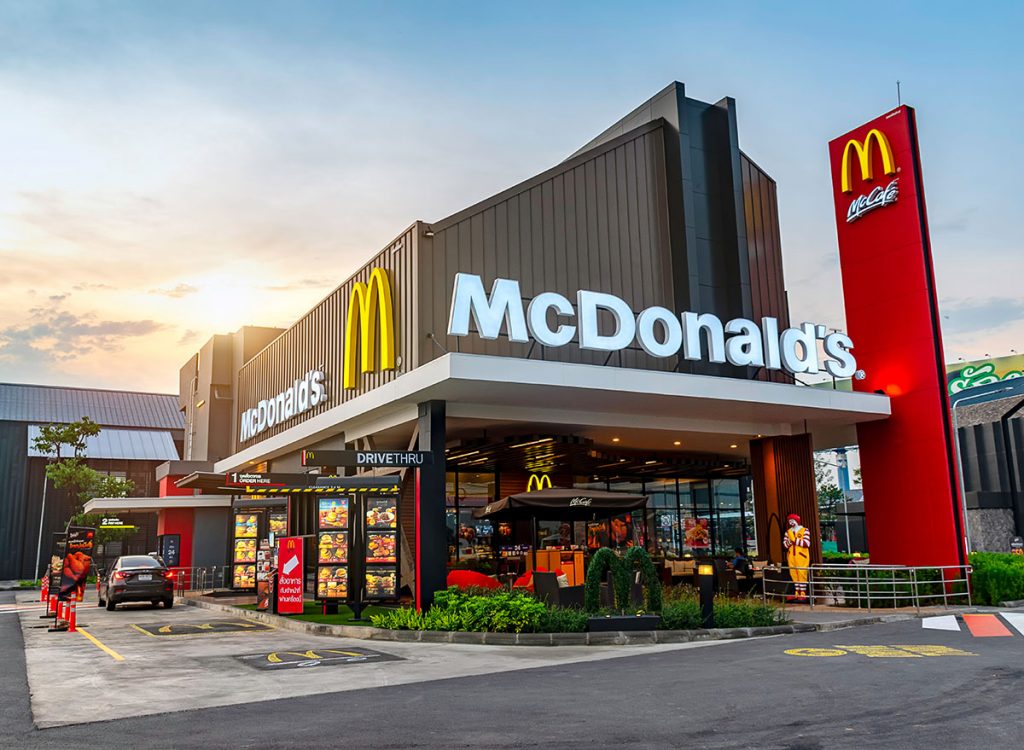 McDonald's is amazing.

The chain with the golden arches has been presenting itself as the world's greatest happiness provider for almost 80 years now.

The original McDonald's restaurant – owned by brothers Dick and "Mac" McDonald – opened in San Bernardino, California. The brothers originally sold hot dogs. When they switched to burgers, fries, and shakes (and pieces of pie), they attracted the attention of a middle-aged Chicago businessman named Ray Kroc.

Kroc promptly purchased the national and global franchising rights for the McDonald's brand.

He never seriously considered changing the name. "Would anyone really want a Kroc Burger?" he asked.

Even though the popularity of "Mickey D's" seems to have plateaued in the United States, the global metrics associated with this burger joint continue to be staggering. Consider the following:

Just 30 years ago, there were 12,700 McDonald's worldwide. As of this week, there are 39,138. Between 2015 and 2018, McDonald's opened a new restaurant in China every day. A new franchise is launched somewhere on the planet every 14.5 hours.

Globally, McDonald's sells 75 hamburgers every second. The company is the world's largest owner of potato fields and beef cattle. If McDonald's were a sovereign nation, it would represent the world's 90th largest economy. The so-called Big Mac Index (comparing the cost of that sandwich in different countries) is used by economists to assess the buying power of various currencies.

It's estimated that 10% of Americans patronize the Golden Arches every day. The #1 menu item is the Happy Meal, accounting for 20% of overall sales, which makes McDonald's the global leader in toy distribution.

In 1965, the Filet-O-Fish sandwich was added to the menu at a restaurant in a heavily Catholic suburb, since devout Roman Catholics traditionally avoided meat on Fridays. Ultimately it became a coast-to-coast staple. In an effort to keep up with changing tastes and values, McDonald's announced this week that the new McPlant burger will be available in February at 600 locations. It's hard to imagine that Ray Kroc ever thought he would be selling veggie products.

Sociologists tell us that one out of eight Americans will work for the Golden Arches at one time or another. So far that's included Jay Leno, Shania Twain, James Franco, NASCAR driver Tony Stewart, politician Paul Ryan, Keenan Ivory Wayans, Star Jones, Sharon Stone, and pop singers Seal and Pink. The first actor to play Ronald McDonald was future celebrity meteorologist Willard Scott.

On a personal note, despite our last name, my two brothers and I have never been stockholders. We have certainly eaten our share of Quarter Pounders with Cheese. We're also immensely grateful that Mom and Dad did not feel led to name any of us Ronald. If my brother Bruce had been a girl, Mom intended to name her Wendy – which would have made her a fast-food branding phenom.

McDonald's continues to change the way the world thinks about food and happiness.

Which ought to give us pause.

According to Sponsorship Research International, 88% of the world's citizens can identify the logos of Coca-Cola and McDonald's. In less than a century they have become the most successful brands in human history.

By contrast, only 54% of the world looks at a symbol that has been around for twenty centuries – the cross – and associates it with finding a deeper and richer life by following someone named Jesus.

We have to admit that Jesus didn't seem to help his own cause. He told his apprentices they would need to "take up their own crosses daily" and follow him. Or to put it another way: We must give up a life we cannot keep in order to gain a life we cannot lose.

A Happy Meal will always seem easier. And less expensive. And it comes with a toy.

Our task, on the other hand, is to help others grasp that our deepest hunger can only be satisfied by God.

And the only way we can ever make a compelling case for that is to experience for ourselves the happiness that only God can provide.