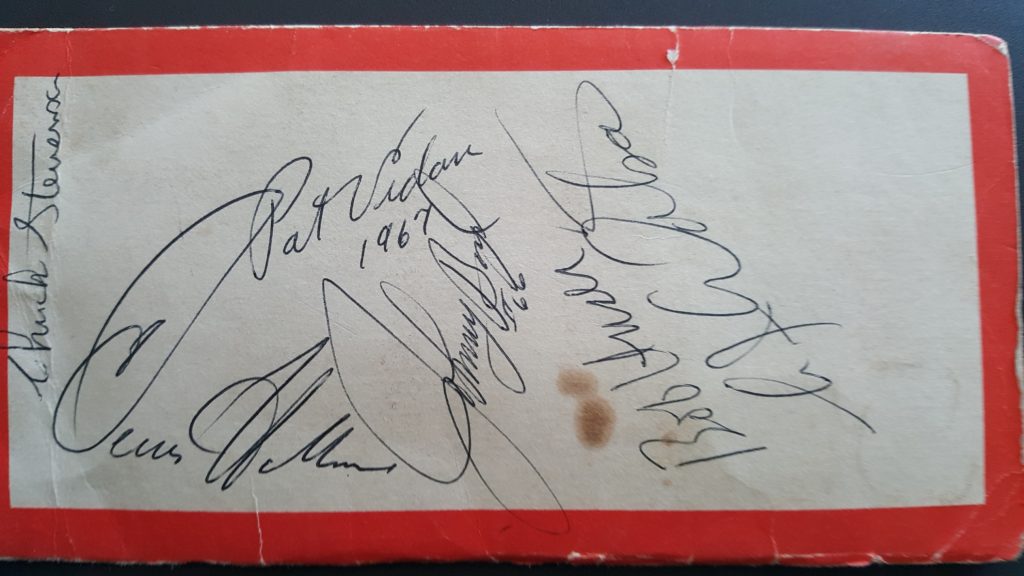 As a native of the Hoosier capitol, I grew up loving the Indianapolis "500."

I have vivid memories of attending my first race in 1967. I sat in the first turn with my father and two brothers. Even though the race was halted after 18 laps because of a drenching rain that required a quarter million people to come back the next day, I was sold.

After the checkered flag waved and the crowd began to disperse, Dad suggested that we walk around the garage area to collect autographs from drivers.

I had come prepared with a memo pad that already featured a handful of signatures. Pen in hand, we went in search of open wheel racing legends.

Over the next hour, we encountered more than a dozen drivers. But I felt deflated. The only guys still hanging around their garages at this late hour were the also-rans. Or as I tended to see them, the nobodies. I was hoping to meet the somebodies – like Mario Andretti, who had won the pole position that year. Or A.J. Foyt, who that very day had won his third race. Or Parnelli Jones, who had led almost the entire race in his bright red turbine car, only to falter with four laps to go.

The memo pad wound up in a desk drawer. Over the years I lost track of it. Then in 2017, a half century after my first Indy "500," I discovered those yellowed pages at the bottom of a box of childhood memories.

That's when I got a major surprise.

On one of the pages I had the autograph of Joe Leonard, who would sit on the pole in 1968. And Wally Dallenbach, who served for years as Indycar's director of competition. There was the scrawl of Gordon Johncock, a "nobody" who would go on to win two "500's."

I had gotten the signature of Mel Kenyon, who would finish third the very next year, and wind up with four top-five finishes in his career – a record of consistency matched by few other drivers. Mel, who would drive midget cars until age 70, would go on to make a lasting spiritual impact through On Track Ministries.

Then there was "Bob Unser." His autograph is second from the right in the image above. Bobby Unser had been a second tier Speedway competitor until he won the "500" in 1968. He followed that with victories in 1975 and 1981, making him the only driver to win the world's most famous race in three different decades. When he died earlier this month at age 87, he was hailed as one of the greatest drivers of all time.

I had been in the presence of champions. I just didn't know it.

I'd love to tell you this is the only time I've failed to recognize the potential of people standing right in front of me.

But most of us are so enthralled by titles, reputations, and media reports that we forget there is always a Before in every great story.

Think how many families have poured bowls of Cheerios for children and grandchildren and never suspected these little ones were going to change the world. Or how many workplace teams have been so laser-focused on strategic personnel development that they failed to notice the emerging leaders already in the room.

Here's the irony, as well as the opportunity:

The ways we choose to love, encourage, admonish, and coach the "also-rans" who are right in front of us may in fact turn out to be the very reasons they will one day be champions.

That can make all the difference in the world.

Especially when we're talking about winning life's most important races – the ones that have nothing to do with going 230 mph.