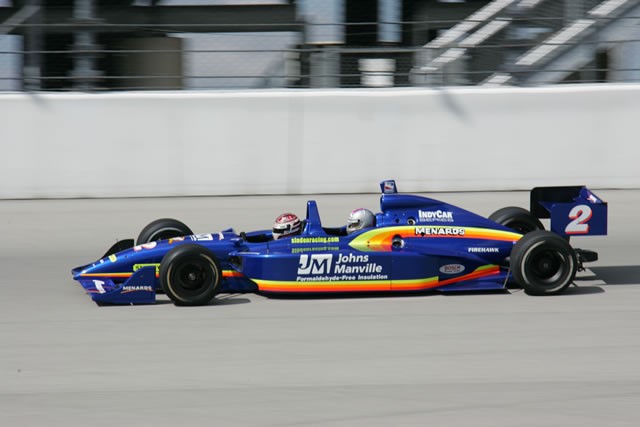 To listen to this reflection as a podcast, click here.

Growing up in Indianapolis, I have always been fascinated with the "500."

This Sunday I'll be attending my 38th race – a decent slice of the 107 competitions held every Memorial Day weekend at the Speedway.

As a family we have sat in all four turns over the years, not to mention at various places along the main straightaway, often within sight of the famous "yard of bricks" that serves as the Start/Finish line. This year we'll be sitting high up in turn one.

Race day for the McDonalds traditionally begins with the purchase of a Crave Case at White Castle. That's a box that contains 30 of the famous "sliders." We begin eating them at about 8 am, and usually polish off the last few about 4 pm, trudging from the track toward our car. For reasons that are obvious to anyone who has ever eaten a White Castle slider, not to mention relevant warnings from the American Medical Association, we pursue this family ritual only once a year.

As a kid I fantasized about driving an open-wheel car around the two-and-a-half mile oval.

My dream finally came true. Sort of. I received the incredible gift of riding in one of the specially designed two-seater Indy cars.

I obediently signed the waiver indicating that my next of kin wouldn't press charges if I was seriously injured or killed. I donned a bright red fire suit along with special gloves, shoes, and padded helmet. I looked and felt like an astronaut.

I listened carefully to the safety instructions.

"If you choose to wave your hand as you come down the main straight, don't lift it above your cheek. Otherwise the wind might catch your arm and pull it out of socket." Thanks, I'll definitely remember that.

"Whatever you do, don't touch the driver." No problem there.

I squeezed into the tiny space directly behind professional racer J.J. Yeley, who chauffeured me for three laps at speeds in the neighborhood of 180 mph.

As we approached turn one for the first time, I was fairly certain we weren't going to make it. The car was going far too fast and the pavement is far too flat. The Speedway's four corners are banked at just nine degrees. Compare that to the 33-degree turns at NASCAR's Talladega Speedway in Alabama.

Suddenly the car went left – my impression is that we were making a 90-degree turn on a dime – and all of my internal organs went right.

After three laps I felt as if I had taken a high-speed ride in a dryer. What a rush.

What intrigued me is what happened shortly afterward, on the birthday of Dario Franchitti. Dario is a three-time winner of the Indianapolis "500." His boss at the time, Michael Andretti, gave Franchitti a celebratory ride in the same two-seater car.

Here's the relevant information: Andretti is one of the most skilled drivers in the history of motor sports. The two-seater car is specially engineered so that it cannot come within 40-50 mph of a typical Indy racing machine.

Yet when Franchitti the passenger stepped out of the car at the end of his birthday ride, he admitted that he was terrified. Why?

For three laps he had not been able to put his hands on the wheel.

When most of us are afraid, we do not naturally say, "Lord, why don't you take over for the next few laps?" We want to grab the wheel. We routinely bet our lives that we can do a better job than God of providing for our own security.

We are always wrong.

Surrendering to God's hidden presence – trusting that God is able and willing to hold on to us in the midst of all of life's moments – is the cornerstone of a healthy spiritual life.

This Sunday 33 racers will hear those famous words: "Drivers, start your engines."

On any given day we can expect to hear a different command: "Disciples, get into the back seat."

Then hang on for the ride of your life.